West Ham boss Sam Allardyce wary of threat from Stoke
West Ham boss Sam Allardyce believes Stoke are currently in a false position in the Premier League.
Last Updated: 19/11/12 7:14pm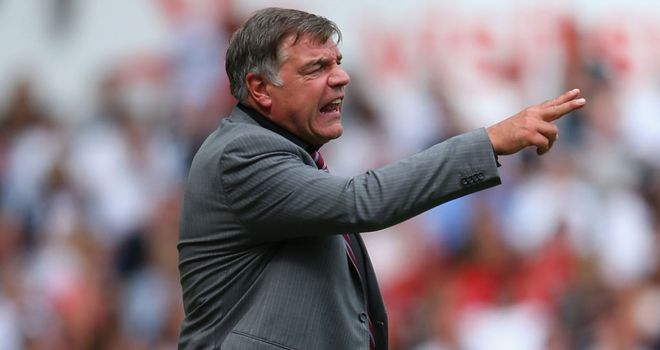 The Potters are 14th in the table ahead of Monday's trip to Upton Park with only two wins so far this term but Allardyce expects them to finish much higher.
"Tony Pulis' team are well drilled and disciplined in the way they want to play," Allardyce said. "I think that they get the defensive side of it right, as I try to do as well.
"I think the improvement in the quality of their players has made them an established Premier League side now.
"I think Tony probably thinks they are under-achieving a bit at the minute with the team he has built over the last few years.
"He had a more difficult start to the season in terms of fixtures than we did, so I'm sure they'll get back to winning ways, but I hope it's not on Monday."
After taking a point against champions Manchester City and beating Newcastle last weekend, Allardyce is hoping his own side can keep the momentum going.
He said: "The tough phase has already begun for us and, after Stoke we go into a run against the other big boys. We've coped very well so far and I hope we continue to cope on Monday night because that's a big game for us.
"We want to continue our home form and home results and get a very important three points against a well-experienced and well-organised team with a really good manager."
Allardyce also believes the rest of the Premier League are now starting to sit up and take notice of the Hammers.
"I think so. I think that, at the end of the day, when you continue to get results then people cannot ignore what you're doing, both as a manager and a group of players and coaching staff," he said.
"From our point of view, most of us have been here (in the Premier League) before - certainly I have for a long time and we know the position we're in is a very good one.
"But we know only a quarter of the season has gone. It's early days and a lot can happen between now and the end of the season.
"If we're around this position going into the last six or seven games, then that's a great season. At the moment, it's a great start and that's all it is."