West Ham's Sam Allardyce not looking to renew rivalry with Chelsea's Rafa Benitez
West Ham boss Sam Allardyce is not looking to renew an old rivalry with Chelsea boss Rafa Benitez on Saturday.
Last Updated: 01/12/12 11:57am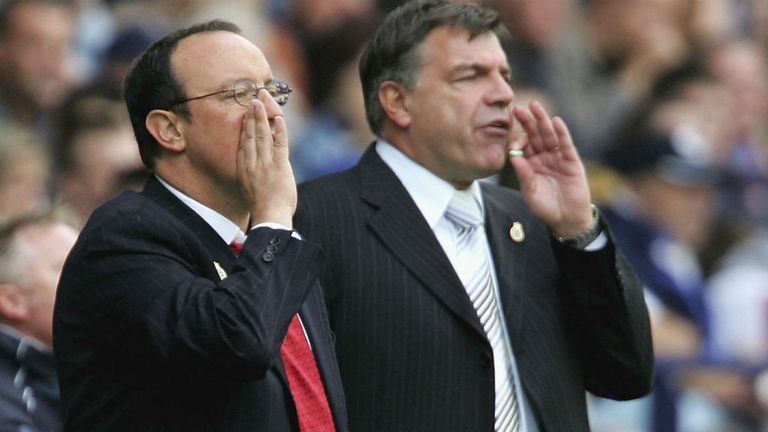 Allardyce was manager at Blackburn and Benitez at Liverpool when the pair begun a war of words over three years ago.
Benitez sarcastically suggested Barcelona were looking to imitate Blackburn's robust style, with Allardyce hitting back by saying: "He's got personal with it for many, many years now. That's why I don't like him and the feeling is probably mutual."
The origins of the fall-out date back to 2009 when Allardyce felt the Spaniard had made a 'game over' hand gesture when Liverpool went 2-0 up against his Blackburn side.
In the build-up to the Upton Park clash, Allardyce said: "It was a long time ago, a lot of water has gone under the bridge since then and I am just looking forward to the game.
"I don't want to jump into that scenario, I am a bit bigger than that, I don't want to go tit for tat.
"All I do is look to compete at a level going against not just Chelsea, but also against a man who has a real good record, to see if we can upset them."
Having started his managerial reign at Stamford Bridge with two goalless draws, Benitez will also have other thoughts dominating his head, not to mention winning over his own fans after their initial frosty reception.
Allardyce remains wary of the dangers the current Champions League winners will pose though, adding: "In the last two games they have not conceded a goal. At the heart of every good side is producing a clean sheet.
"Rafa has already sorted out what was a problem under former manager Roberto Di Matteo, and now they have got a couple of clean sheets in a row, so it will not be long before they can turn that into a victory if they continue to defend like that.
"It will be more difficult to break Chelsea down than it would have been, chances will be few and far between."
Allardyce maintains once the Blues are back to winning ways, the boo-boys will soon be appeased.
He continued: "At Chelsea, like any other club, it is all about winning. I am sure once Rafa starts winning, then that will change, when the team starts winning then supporters get behind everybody.
"It takes time to adjust to the ideas of a new coaching regime, that is always the case.
"Over the last few years, Chelsea players have been used to it because they have had a quite a few changes."