West Ham midfielder Mohamed Diame facing three months out after suffering hamstring injury against Liverpool
West Ham fear midfielder Mohamed Diame will ruled out for up to three months with a torn hamstring.
Last Updated: 10/12/12 9:27am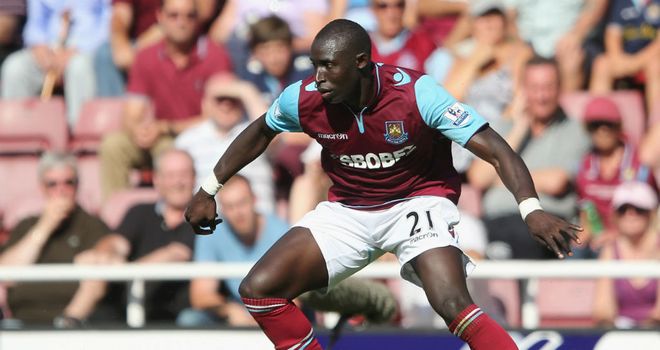 Diame was hurt during Sunday's 3-2 defeat at home to Liverpool and had to be stretchered off the pitch after pulling up near the touchline with 17 minutes remaining.
The Senegal international has been a key player so far this season and it was after his premature exit that Brendan Rodgers' side scored twice to complete a valuable fightback victory.
Diame will undergo medical tests but manager Sam Allardyce did not give a positive early prognosis.
"We will wait until it has settled down and then scan it," Allardyce said.
"But it does not take a medical expert to know it is a serious hamstring tear when he falls and stopped the way he did.
"I would expect, in medical terms, for it to be a grade 3 (injury) and that could be anything up to eight, 10 or 12 weeks.
"(Diame) is about the start and build-up of most of the creative side of our game. That is what we have lost and what we will be missing for a number of weeks so we are going to have to be a bit more dogged and resilient.
"Mo (Diame) going off was obviously a blow to the creative side of our game. He was in front of every or most of the attacks we built so that was a blow.
"We have got to take it on the chin and I think we did the best we could and played as well as we could and we are disappointed that we haven't got anything from it.
"It is disappointing to lose, but it is even more disappointing when your most creative player leaves the field with what looks like a serious injury on top of all the injuries we have got at the moment - so today has been obviously more disappointing because we have lost Mo as well as losing."