West Ham striker Andy Carroll is relishing his return from injury
West Ham's Andy Carroll is hopeful his recent injuries problems are behind him after scoring the winner versus Swansea.
Last Updated: 05/02/13 1:41pm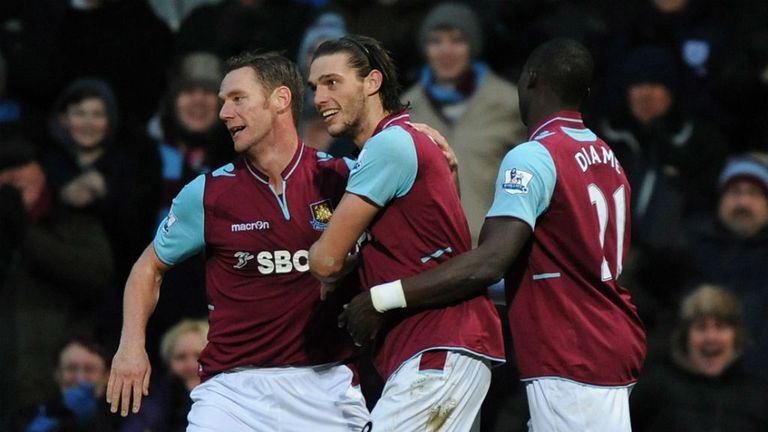 The 24-year-old's season has been blighted by hamstring and knee injuries since joining West Ham on loan from Liverpool last summer.
Carroll's strike in West Ham's 1-0 win over Swansea was only his second since joining the Hammers.
He admits it has been tough to find his form whilst battling to stay fit, but hopes he is now on course for a long run in Sam Allardyce's team.
"Coming into a new team and getting injured in my first game to put me out for six weeks was frustrating," he told West Ham's official website.
"Then I was back for a couple of games and was out for eight weeks. It's hard when you're injured anyway, but when it's at a new club it's even harder.
"I've kept my head up as much as possible and worked hard with the physios and fitness coaches to get back and I showed on Saturday that I am fit."
Carroll praised the club's medical team for getting him back to fitness in time to make a match-winning start against Swansea as West Ham claimed only their second Premier League win in 10 games.
He said: "I've been keeping fit in the gym and all the backroom staff have been helping me. The fitness coaches and physios have been on me, working me hard.
"When I couldn't run I was in the gym and the hard work paid off with 90 minutes on Saturday.
"I didn't find out until the day of the game that I was going to start and obviously I was over the moon with the decision. I just had to work hard, run around and keep the ball as much as I could.
"It was a tough game and I'm just happy that we got the three points."