West Ham boss Sam Allardyce calls for good behaviour ahead of Tottenham's visit
West Ham say they will deal severely with any fan guilty of offensive chanting during Monday's game against Tottenham.
Last Updated: 25/02/13 7:15pm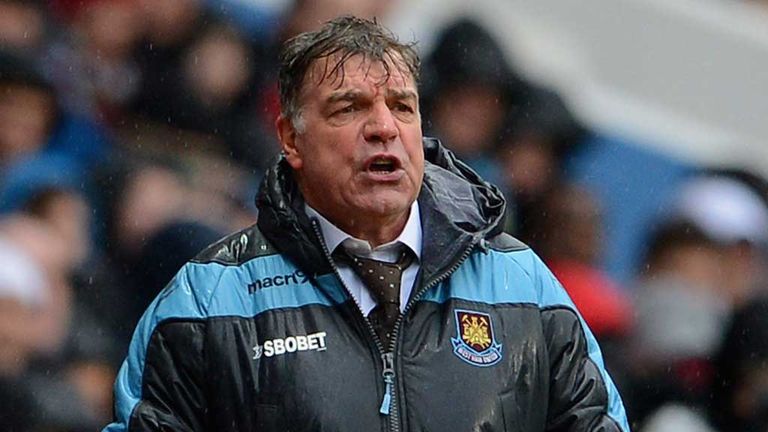 A small minority of visiting supporters were accused of anti-Semitic chants in the wake of November's derby between the sides at White Hart Lane.
West Ham promised to hand out life bans for any culprit identified, and ahead of the return fixture co-owners David Gold and David Sullivan released a statement making clear their position.
It read: "We will not tolerate any form of discriminatory behaviour and one by one we will root out those fans that do not deserve to represent this great club of ours.
"We must be clear that we will pursue the harshest sanctions against any individual who goes against what we stand for as a club.
"It is obvious that the vast, vast majority of Hammers fans support the club in the right way and we are very grateful for the tremendous backing we receive from our supporters.
"However, in the rare case that supporters do see or hear anything they think is unacceptable, there are a number of ways they can report the matter."
Manager Sam Allardyce said: "I hope there's nothing untoward that happens in terms of chanting. If we spot it we've got to deal with it and hopefully there won't be any."
On the pitch, Allardyce's side will come up against Gareth Bale, who has six goals in his past five matches.
"Not only has he scored very important goals, but they've been stunning goals at that," the Hammers boss said.
"He's going to need some looking after on Monday night. If we can do that we nullify a threat that Tottenham have. Of course Aaron Lennon is a threat down the other side, but he doesn't quite score as many goals as Gareth Bale."
Meanwhile, Allardyce is rueful of the fact the Hammers are only likely to play three games in March after their home date against Manchester United was postponed due to the Premier League leaders' continued progress in the FA Cup.
Allardyce has an almost fully-fit squad to choose from but reckons he cannot give enough game time to those individuals requiring a little bit of match sharpness due to the shortage of fixtures, which is compounded by an international break.
"Selection processes are what a manager needs and it gives us a good, broad base of squad members in strength in depth to select from moving forward in the last third of the season," he said.
"Our difficulty is that coming into March we've only got three games in the month. It's going to be a big period to actually manage the players without really enough games.
"We had too many games in December and January and now because of circumstances with Manchester United beating Reading and an international break as well, we've not got enough in March.
"We've got a big squad fully fit, but only three matches for them to compete in.
"We'll keep on top of the players' fitness and make sure we're ready for every game because with such long periods [between games] keeping the players focused and concentrated is one of the difficulties.
"We'll look at the week-to-week management of the players and decide what we want to do. More importantly, we have to keep them fit and keep them all ready for selection."