Liverpool winger Stewart Downing backs Luis Suarez for Player of the Year award
Stewart Downing believes Luis Suarez is in with a great chance of the Player of the Year award.
Last Updated: 04/03/13 8:54am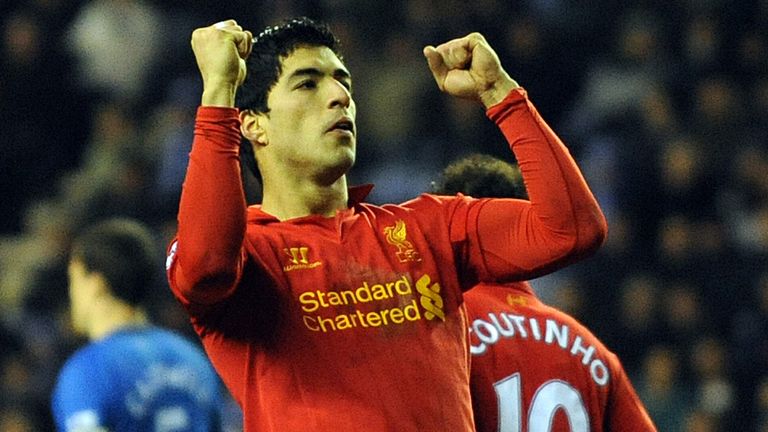 Suarez is among the leading pack alongside Gareth Bale and Robin van Persie to win the Professional Football Association's Player of the Year prize after an impressive campaign for Liverpool.
The Uruguayan is the Premier League's top scorer with 21 goals and he enhanced his chances of winning this year's individual prizes with a hat-trick in the 4-0 win over Wigan at the weekend.
However, it has been claimed the controversies Suarez has found himself caught up in the past could cost him getting the vote from his fellow professionals.
Downing, who scored the opening goal against Wigan, believes Suarez should only be judged by his performances and that he is in with a great chance of being named player of the year.
"I wouldn't like to say who will get it [the award]," said Downing. "They're all great players, they've all had great seasons. Bale is Tottenham's main man, Luis is ours with his goals and Van Persie is great. They're all top players and it's a hard choice.
"It could go any way, that's how close it will be. It may end up with whoever gets the most goals this season, so Luis is in with a hell of a chance.
"It should only be judged on his performance on the field - and you can't fault him for that. Obviously he's had things which have happened in the past but he's got on with his football and does his job at the end of the day.
"It should be judged on how he plays and, for me, that's all it boils down to. Nothing else should matter - I think he's got a hell of a chance."
Meanwhile, Downing believes goalkeeper Jose Reina is returning to top form again after the Spain international played a crucial role in the 4-0 win at Wigan.
"It's hard for keepers. As players, we make many mistakes in games, but they get overshadowed by other things," he said.
"A keeper makes a mistake and it's in the back of the net. It is a tough position to play. But you see his save at 2-0 and if we had gone in 2-1 at half-time that would have made it more difficult.
"People don't tend to see that, but we as players could see it was an important save. It gave us the platform to go on and get the third goal and it was easy from then on.
"He's a top-class goalkeeper. Everyone has dips in form and things like that. It's about the way you bounce back and he certainly has."
Downing was also impressed with the contribution of Philippe Coutinho, the £8.5million January signing from Inter Milan making only his third appearance for the club.
The 20-year-old provided assists for the first two goals, crossing for Downing and then sliding the pass through for the first of Luis Suarez's hat-trick in an encouraging 70-minute display.
"He's had two good games (his other match was a 12-minute debut as a substitute)," added Downing.
"He will find it hard physically because this is different from the two leagues he's played in.
"I think he's settled in well and he's had two really good performances. If he can keep playing like that - and with Luis banging in the goals - then we've got a really good chance."