David Gold says West Ham's move to Olympic Stadium could be close
West Ham could be close to agreeing a move to the Olympic Stadium, according to the club's co-chairman David Gold.
Last Updated: 04/03/13 2:25pm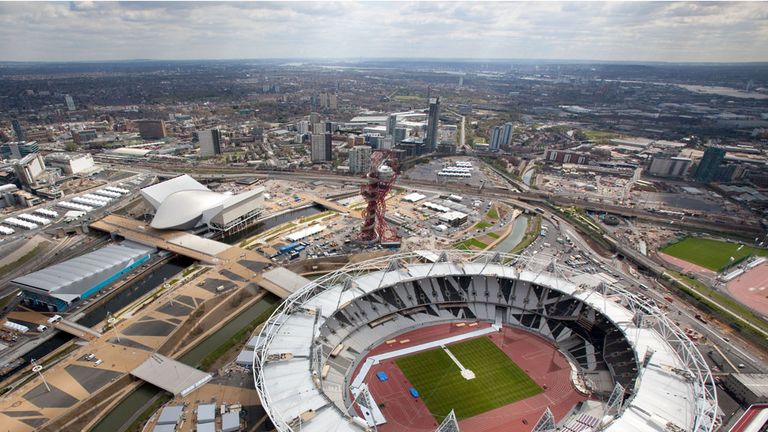 The Hammers' long-planned move from Upton Park to the venue in East London has reportedly edged closer this month following talks with the London Legacy Development Corporation.
London Mayor Boris Johnson has described those discussions as "positive" and Gold is optimistic West Ham will soon have a new home.
"I think we're close. It's only what I'm being promised. As we speak I'm being promised March 16," Gold told talkSPORT. "We would sign the agreement then."
However, the 76-year-old is exercising caution following previous late problems in the potential agreement that would see the Hammers move to the Olympic Stadium in 2016.
"I'm embarrassed because I've tweeted 10 times that it's going to be next week or next month and here's a date," he said. "The date comes and goes and then I give another date. But I think we are close."
West Ham were handed 'preferred bidder' status in December last year and talks with the LLDC have since focused on details of the proposed move, including how much the club would pay towards conversion costs of the stadium.
"There are certain things I can't share with you because of the confidentiality agreement. We will only go there if it is fit for use," said Gold. "I won't go there if I have to look over a running track. But I believe we are in a once-in-a-lifetime opportunity. Let's face it. They've built a stadium - albeit the wrong shape and size."
Part of London's successful Olympic bid centred on a promise to keep athletics at the Stratford venue in the future and Gold believes for that to happen the financial support of football is required.
"Most Olympic Stadiums have failed because they haven't embraced the legacy and also saying the Olympics is over," he said. "Athletics needs football to support it. There's no other way."
The LLDC will discuss the future of the stadium at their next board meeting on March 26, although an extraordinary general meeting may be called if they reach an agreement with West Ham before then.