West Ham vice-chairman Karren Brady says Olympic Stadium will be world class
Karren Brady is confident that West Ham will be able to fill their 'world class' new ground at the Olympic Stadium.
Last Updated: 22/03/13 4:09pm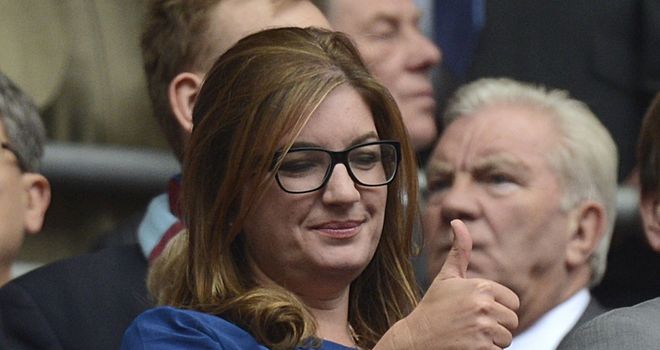 The London Legacy Development Corporation (LLDC) announced on Friday morning that a 99-year lease has been agreed, with the revamped stadium set to have retractable seats.
The Hammers are set to move into the 54,000-seater stadium in 2016 and Brady has no doubts that fans will feel proud to call it their home.
"Will it be world class? The answer to that is yes. It is going to be a UEFA 4 category, which is the highest level of stadium you can have," she told Sky Sports News.
"Will it have retractable seats bringing the action and the supporters really close together? The answer to that is yes.
"Will it look like West Ham? Will it feel like West Ham? Well, West Ham have supremacy for all their fixtures. The answer to that is yes.
"And I can exclusively tell you that we have already agreed that we can name two stands the Bobby Moore Stand and the Sir Trevor Brooking Stand."
The capacity of West Ham's new home will be significantly greater than Upton Park's 35,000, but Brady is convinced they can pack out the stadium.
She said: "13 of our last matches have been sell-outs, which shows that we do need a bigger ground.
"I think there are a lot of supporters who are interested in seeing what the Olympic Stadium looks like, from home and away."
Hearn fight
Leyton Orient chairman Barry Hearn has vowed to fight Friday's decision as he believes there has been a 'fundamental flaw' in the bidding process.
Hearn is keen for Orient to share the Olympic Stadium and fears for his club's future if they are not allowed to do so, but Brady does not think any fault lies with West Ham.
She explained: "We are very close to them already and we are having sell-out crowds and Barry isn't. We are a Newham-based club, this is a Newham-based stadium. Leyton Orient is from Waltham Forest.
"Barry Hearn has to do what he thinks is right for Leyton Orient and we respect that entirely.
"The sharing process was not in the hands of West Ham. It was for the LLDC to carry out that process. It is not really an issue for West Ham. We complied with the rules of the competition, as did he and everyone who could bid for it."