West Brom have plenty to play for, insists Steve Clarke
West Brom manager Steve Clarke insists his side still have plenty to play for this season.
Last Updated: 30/03/13 2:26pm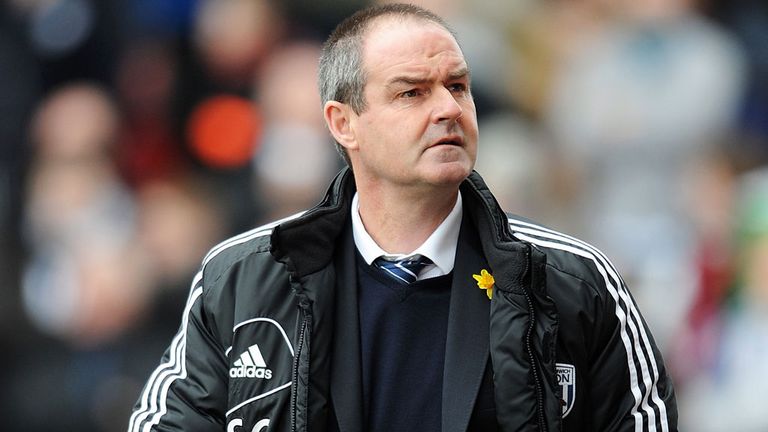 With 44 points from 30 matches, the Baggies are assured a fourth successive season of top-flight football and have only a remote chance of earning a Europa League place.
"We are professional, we want to finish as high as we can with as many points as we can," said Clarke.
"The next target for us is to get more points than we did in the last two seasons which is 47. If we win at the weekend we will equal that, and it will give us seven games to better it.
"For anyone to question our commitment or our desire to do well for the last eight games is wrong."
Clarke, who was assistant to Gianfranco Zola during the Italian's stint as manager of West Ham, believes current Hammers boss Sam Allardyce should be rewarded with a new contract at Upton Park.
"I enjoyed my time at West Ham. It was good. The second season was difficult. I learned a lot," added Clarke. "It stood me in good stead for the job I am doing here.
"As for Sam, he always does a good job. Wherever he goes, he gets his teams playing the way he wants them to play and gets good results.
"Should he get a new contract? I would think so, but you would have to ask the West Ham owners."
Clarke also believes the Hammers are starting to see the best of Joe Cole whom he worked with when assistant boss of Chelsea and Liverpool.
Cole returned to the Hammers in January after a loan spell last season with Lille.
Clarke said: "I think Joe has had a great career. Good boy, good to work with. Worked with him at Chelsea, he was good.
"We had a very brief spell together at Liverpool where it was difficult for Joe. He wasn't at his best.
"He took a year out at France. I think it went very well for him over there.
"He's come back, he has gone home to West Ham. From what I have seen of him in recent games, he's played well.
"He looks comfortable in the team and understands his role in the team. He will be a difficult opponent but one of many they can put on the pitch."
Clarke added: "I was a little bit surprised it didn't work out for him at Liverpool. When you have got that talent, you hope it is going to work out for you.
"He is not the first player to make a move and it has not worked out for. I think he has bounced back well."