Stewart Downing aware he needs to maintain high standards at Liverpool
Stewart Downing concedes he only needs to look at the Liverpool bench to realise how important it is to maintain form.
Last Updated: 11/04/13 11:59am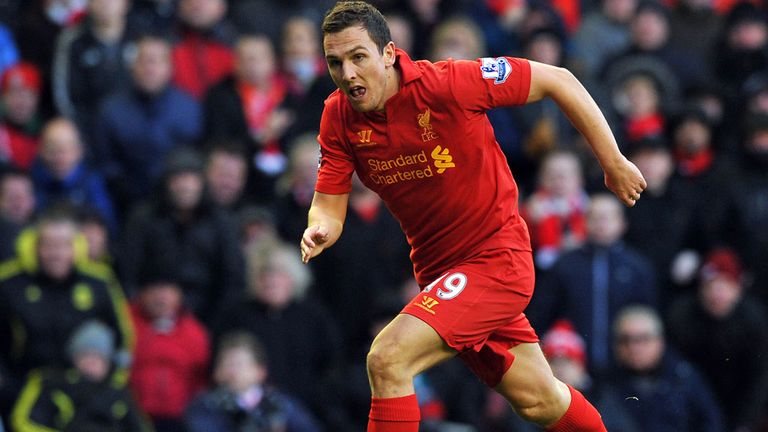 The England winger struggled to find his feet earlier in the campaign, with it looking as though he was stumbling towards the Anfield exits at one stage.
He has, however, turned his season around and has become an integral part of Brendan Rodgers' plans.
Downing cannot afford to let complacency to creep in, though, with competition for places as fierce as ever - and likely to intensify further in the summer.
He told the official Liverpool FC magazine: "All I need to do is look at the bench to remind myself that I have to keep performing well.
"There is real competition for places, especially since Daniel (Sturridge) and (Philippe) Coutinho arrived in January. You have lads like Raheem (Sterling) waiting for a chance too. It means if you're not playing well you'll be hauled off.
"I'm sure the manager will also be looking to add to the squad in the summer.
"He's told me I'm part of his long-term plans, which was great to hear. Now I have to ensure that continues to be the case."
Clicked
Downing admits it took him a while to settle on Merseyside, following a switch from Aston Villa in 2011, but he is now looking to become a mainstay in the Liverpool side for many years to come.
He added: "Some lads hit it off straight away at a new club, others don't. In my case it took longer than I obviously wanted.
"I'm glad it's clicked now and I have the chance to continue playing for a big club. I've always believed I could do well here.
"I've done that over the last few months and want to continue doing so for the remainder of the season and the years to come."