Ricardo Vaz Te's transfer request 'in the past' as striker and West Ham bury hatchet
Ricardo Vaz Te's summer transfer request is "in the past" as far as both he and West Ham are concerned.
Last Updated: 25/09/13 5:46pm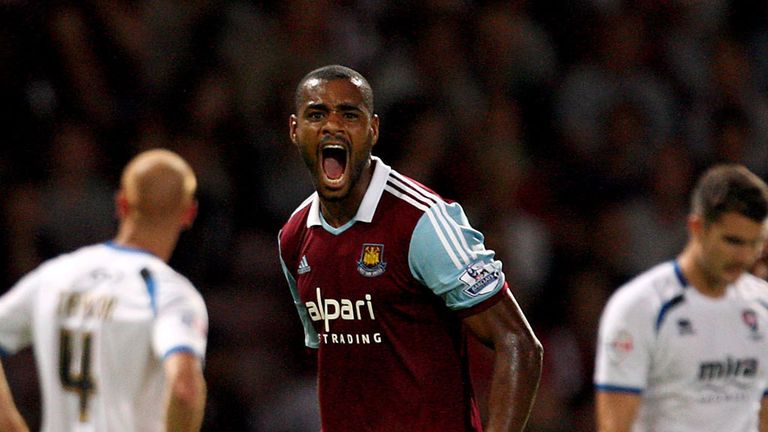 The Portuguese forward publicly sought a move during the transfer window and claimed "it has been made obvious to myself and my representatives that I am not in the manager's plans".
Vaz Te has not yet started in the Premier League this season, but his winner against Cardiff on Tuesday was his second Capital One Cup goal in as many starts in that competition.
And with Andy Carroll injured, Mladen Petric short of fitness and Modibo Maiga yet to score this term, Vaz Te is an option for this weekend's trip to Hull City.
Assistant manager Neil McDonald said: "He keeps on telling everyone that he creates chances and scores and that's what the manager wants - people to put the ball in the back of the net.
"That's a knock on the door for the manager, he's available on Saturday against Hull and gives the manager a nice little problem.
"You have to forget what happened in the past, maybe it was bad advice, but he's a genuine lad who just wants to play."
Vaz Te was also in conciliatory mood when interviewed by the club's website after the game.
He said: "I try not to be selfish. This season I have found myself in a bit of a pickle because I noticed that I wasn't going to be picked as the first option.
"I think I deserve to be the first option so it has been very frustrating. I was happy to get the 90 minutes and now I have to keep showing that I deserve to play.
"The players know the business and it's hard. They don't hold grudges. None of us hold grudges. We're all professionals. Obviously I expressed my desire to leave because I want to play. I'm not 18 any longer and I can't keep playing those games.
"The players have been wonderful. They know my intentions, obviously, and know I have huge respect for each individual and the manager and the club. I didn't do it to hurt anybody - I just want to play."