Taxpayers to pay bulk of £200m Olympic Stadium conversion costs
Taxpayers will contribute up to £185m towards the cost of converting the Olympic Stadium, Sky Sports News has learned.
Last Updated: 22/11/13 5:37pm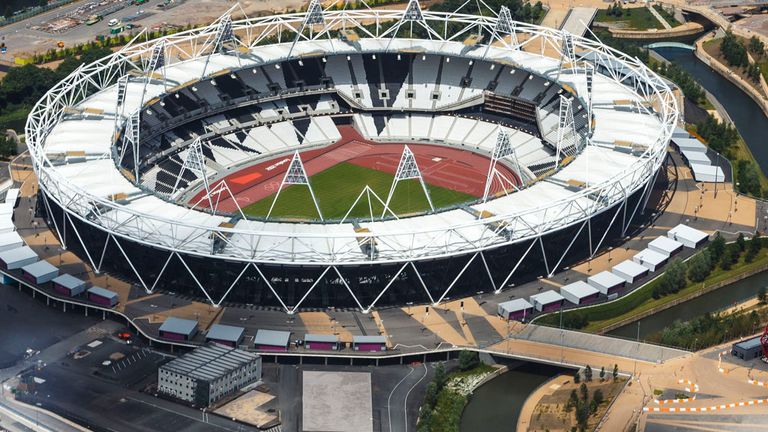 Sources say redevelopment work costing as much as £200m is needed before West Ham move into the Newham venue on a 99-year lease in 2016.
And the Premier League club must hand over just £15m of that figure, with the remainder of the cost borne by the London Legacy Development Corporation (£120m), Newham Council (£40m) and the Government (£25m).
Contacted for a response by Sky Sports News the LLDC - the body responsible for overseeing the transformation work - said: "The stadium transformation has been delivered through public competitive processes to ensure best value for taxpayers".
And a spokesman for West Ham pointed out taxpayers will recoup money for the duration of the 99-year lease in rent, catering receipts and naming rights.
The venue will also host events unrelated to West Ham, including 2015 Rugby World Cup games, rock concerts and the 2017 World Athletics Championships.
And a statement from the club read: "This total package will be worth hundreds of millions of pounds to the taxpayer over the course of the agreement. We offered the only viable solution to the long-term financial success of the stadium."
But Leyton Orient chairman Barry Hearn, who has fought a long battle for the right to share the ground, has called West Ham's move "the deal of the century".
And Robert Oxley, campaign director for the Taxpayers' Alliance, told Sky Sports News: "It's incredibly worrying.
"We've already spent £0.5bn in taxpayers' money building the stadium. The idea that we've got to pay nearly another £200m readying the stadium is a terrible deal for taxpayers."
Earlier this year Sky Sports News discovered under the Freedom of Information Act that taxpayers are paying £1m a year to maintain the stadium while it is unused.
The fate of the arena has proved a long running headache for the Government and London Mayor Boris Johnson, but both maintain the right outcome has been reached.
The venue will eventually become a 55,000-capacity multi-use stadium hosting football in the winter and athletics in the summer.
A full roof is to be fitted along with retractable seats that move over the athletics track.