Premier League: Sam Allardyce backs David Moyes to be a hit at Manchester United
West Ham boss Sam Allardyce has backed David Moyes to be a success at Manchester United.
Last Updated: 20/12/13 2:25pm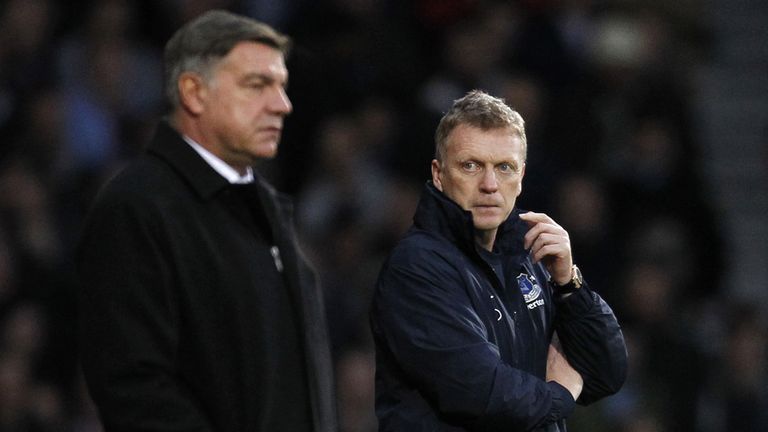 United sit eighth in the Premier League table after losing their last two home league games and face a must-win clash with the Hammers at Old Trafford on Saturday.
Moyes replaced Sir Alex Ferguson as United boss last summer and Allardyce acknowledged the size of the job he has.
"For him, at the moment I don't think it's quite as bad as everyone makes out," said Allardyce.
"(United are in the) semi-finals of the Capital One Cup, qualified (as) winners of their European group and unfortunately for him, (they are in) a league position that he wouldn't have wanted.
"But obviously he'll face the task as he knew it was going to be a difficult takeover period from Sir Alex.
"Old Trafford particularly is where he wants it to be the fortress that Sir Alex always seemed to make it and on occasion that hasn't seemed to happen for him.
"David will be planning as always to get the right team out to beat us and go on from there.
"Like everybody says, the transition cannot happen overnight and it's like every manager, there's a transitional period that you've got to try and get through before you make your own mark on it."
West Ham joined United in the final four of the Capital One Cup after coming from behind to beat rivals Tottenham on Wednesday night, and Allardyce hopes it kick-start their stuttering league campaign.
He said: "When you win such a game at your local rivals, who are such a big club these days, then it does lift everybody but you must use and take that into the next game and make sure you deliver the same performance again.
"We've not won as many games as we should have done in the Premier League and that's left everybody a little down.
"Manchester United we all know, if they're on song, on top of their form on that particular day it could be very difficult for us.
"We have to go and deliver that type of performance and resilience again and be as clinical in front of goal as we were on Wednesday night, even though the opposition territorially and possession-wise were far better than we were."