Premier League: Kevin Nolan praised for cancelling West Ham's Dublin Christmas party
West Ham academy coach Anwar Uddin says Kevin Nolan did the right thing by cancelling West Ham's Christmas party.
By Dev Trehan
Last Updated: 26/12/13 9:34am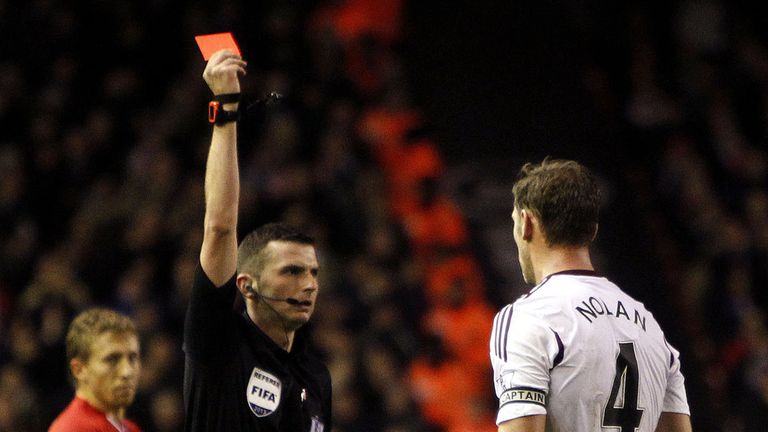 The squad were due to fly out to Dublin - the destination for their Christmas party in 2012 - for their traditional festive do following their Premier League match away at Liverpool a fortnight ago.
But club-captain Nolan, who was sent off in the 4-1 defeat at Anfield, cancelled the trip and even reported back for extra training, despite the fact he was suspended for three matches following the dismissal.
Nolan returns to the squad for their potentially tough encounter at home to Arsenal on Boxing Day and Uddin insists Nolan's decision to cancel their Christmas jaunt to Ireland was the right one.
"He's the club captain and you do whatever you see fit," Uddin told skysports.com. "I think it's a smart thing to do because it's like anything, when you're in a precarious situation and you're seen maybe having the time of your life in Dublin, it's probably not the best message to go out to the fans.
"I just think that says a lot about him. It says a lot about the club that they know about that and they understand that the fans do see them and have a perception of them in a certain way
"I think that's only a positive thing that the fans can take from them because it shows that look we're serious about this, yeah we know we're in a bit of a precarious position but what are we going to do?
"Let's get out of it and we will do everything we can to get out of it and that includes cancelling the Christmas party, but hopefully the schoolboy coaches don't cancel their Christmas party because I'm looking forward to that!"
Uddin is best remembered as captain of the last West Ham team to win the FA Youth Cup, a side which beat Coventry 9-0 over two legs in 1999 and featured Michael Carrick and Joe Cole.
He revealed that he took a similar decision to Nolan later in his career when he was captain of Dagenham & Redbridge.
"There was a season when I was at Dagenham and Redbridge and we were one point ahead of Oxford at Christmas," Uddin explained. "We had a weekend away at Newquay planned and I just said to the players look, do you really think it's important?
"Why don't we save that money, put it in a pot, win the league and at the end of the league, let's not go to Newquay, let's go a bit further afield, maybe somewhere like Marbella or Paris.
"And that's exactly what we did."