Harry Redknapp says he has had no contact with West Ham regarding Carlton Cole
QPR manager Harry Redknapp has played down speculation linking him with a move for West Ham forward Carlton Cole.
Last Updated: 03/01/14 1:49pm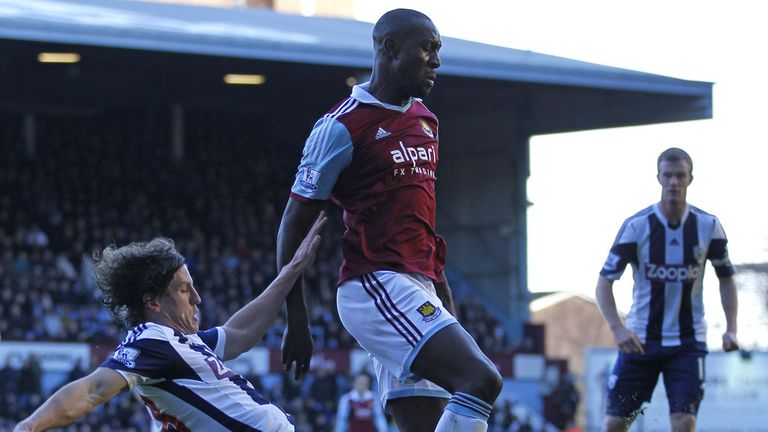 The Championship side are currently a little short of options up front but Redknapp does not expect to land Cole, or Tottenham's Jermain Defoe.
"Someone asked me about Carlton Cole and I just said 'he belongs to West Ham'," said Redknapp.
"As far as I'm concerned he's a West Ham player and that's it. We have had no contact with Carlton Cole's agent or with Sam (Allardyce, West Ham boss) or with anybody at West Ham at all.
"I was just asked whether I liked Carlton Cole and I said 'yes, he's a good player' and that was about it. It has gone nowhere."
And Allardyce says West Ham are keen to extend Cole's stay, the forward having signed a three-month deal when he returned to the club in October.
"Yes, we've got that in mind," said Allardyce, when asked about a new deal for Cole.
"We're talking about that as quickly as we possibly can, because obviously it needs to be addressed."
Defoe move unlikely
Redknapp was also asked whether a possible loan move for Defoe might be in the works at QPR, but replied: "No, no.
"I would love him on loan for a couple of months, that is for sure, but I couldn't see any possibility of that at all. We have never discussed it here or with anybody, I could not see that one being a goer."
Young Spurs forward Harry Kane was also mentioned as a possible target but Redknapp said: "Well, Harry came on at Manchester United the other day, so I would think he is in (Spurs boss) Tim Sherwood's plans.
"I wouldn't see Tim letting Harry go."
Redknapp added that QPR are not certain to enter the transfer market at all during the window.
"We're not in a mad rush to do anything in January," he said. "We're pretty strong at the moment.
"Unless I can get one or two that will make a difference, we'll sit tight for the moment.
"We are short of goals, that's a fact. Playing two up front doesn't always make a difference."
Redknapp plans changes
QPR face Everton in an FA Cup third round tie at Goodison Park on Saturday and Redknapp says he is planning to rest some of his key men.
"We go into the New Year in a decent position so we're looking forward to it," he said.
"I'll rest one or two tomorrow. We've had a heavy load, so it will give a couple of the others a chance.
"It's been a busy Christmas period, so we have players that need a rest. Playing five games in 13 days is too much for some of them."