FA Cup: West Ham's Sam Allardyce admits there could be repercussions after loss
Sam Allardyce is looking ahead but he admits there could be repercussions after West Ham were dumped out of the FA Cup.
Last Updated: 06/01/14 8:50am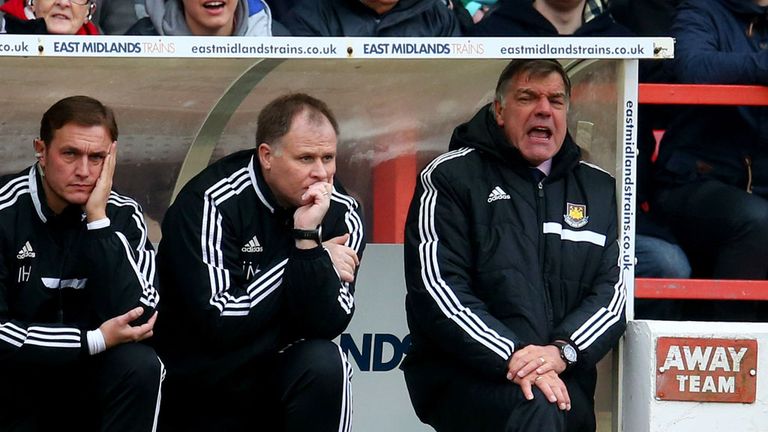 Allardyce made nine changes for the third-round tie at the City Ground, handing debuts to three rookies in his starting XI and two more from the bench.
But the move backfired as Jamie Paterson notched a quick-fire second-half hat-trick - sandwiched between a Djamel Abdoun penalty and Andy Reid's injury-time effort - as Forest progressed to the fourth round.
Asked if he expected repercussions from the club's co-owners David Gold and David Sullivan, he said: "There might be, who knows? It's their decision, not mine.
"I'm not saying it won't happen unless I start to get results. I have got to get results, I know that.
"But I made them (Gold and Sullivan) aware of what would happen today because I'm not in the position to go and do these things without telling everybody internally what is planned for the next few games."
No apologies
Allardyce made no apologies for his decision to place the trip to Nottingham down the pecking order, saying: "My priorities meant I put too many youngsters in and they were not able to withstand Forest's pressure in the last half an hour.
"I picked the team so it is my responsibility. You know what my priorities are: the priorities are the Premier League first and then Capital One Cup (semi-final against Manchester City).
"It's leg one on Wednesday and we need to get back to the second leg with an opportunity to get to Wembley and then get some points at Cardiff.
"My hands are tied behind my back every time I see what's available and the team is almost picking itself. It's a disaster at the moment, a total disaster and in certain areas we've not been able to cope."
The Hammers' most pressing concerns at present are in defence, where there are several injuries and - on this evidence - few ready to take up the mantle.
The January transfer window may help with that and Allardyce confirmed he was interested in, though not confident, of a move for Manchester City's Joleon Lescott.
"I don't know if Joleon is available, but if it is possible I would like to get him," he confirmed.