West Ham to appear before FA tribunal to dispute Andy Carroll ban
West Ham will appear before a Football Association tribunal in a challenge to the three-match ban given to Andy Carroll.
Last Updated: 11/02/14 8:08pm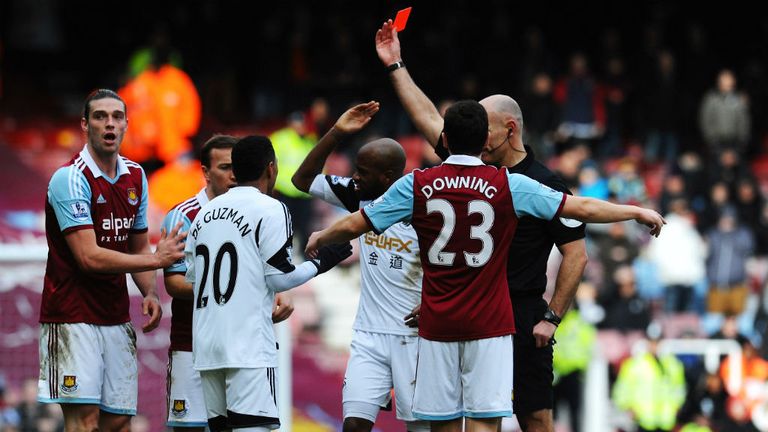 The Hammers immediately appealed against the red card given to Carroll by referee Howard Webb after his clash with Swansea City defender Chico Flores in their 2-0 win last weekend.
The ban was upheld by the FA's three-man appeal body and the striker is scheduled to miss West Ham's away game with Aston Villa on Saturday, as well as the home fixtures with Norwich and Southampton.
But West Ham continune to dispute the decision and will go to an FA tribunal on Friday to challenge it.
Hammers boss Sam Allardyce said at his press conference on Friday: "My reaction to Andy's red card was one of injustice. Unfortunately the panel has not seen it as they should have.
"In this case we based our procedure on whether it was an obvious mistake (to send him off) and I'm 100 per cent certain it was an obvious mistake.
"I hope that common sense prevails. If there's a decision today hopefully it's a positive one."
Allardyce also defended Carroll, who wrote 'DISGRACEFUL' on social networking site Twitter after the ban was upheld.
"That's what he feels," said Allardyce. "Is he not allowed to say what he feels? I could say a lot more but unfortunately in football we have a gagging order and we're not allowed to say what we think.
"We don't have freedom of speech. We can't say what we really think because of the repercussions so you try to explain yourself the best that you can.
"The other scenario is that simulation has won."
A club statement said: "The club is concerned that the regulatory commission did not apply the correct test under the rule, and denied the club procedural fairness.
"The club has no intention of taking the issue to the courts, but simply seeks a fair determination of its rights under the FA's rules."
Hugely disappointed
West Ham co-chairman David Gold had previously suggested that they would look at alternative ways to get the ban overturned, as they fear the suspension could mean the difference between relegation and top-flight survival.
"We are hugely disappointed at the outcome of the process," said Gold.
"There is nowhere to go other than to seek some kind of legal redress. It's not ideal, the last thing I want to do is going to some kind of legal issue because I think it is a footballing issue.
"But we are fighting for our lives. If we were mid-table we would probably get on with it but we are fighting for our lives to retain our Premiership status and we owe it to our fans, we owe it to ourselves."
Gold claimed most people would view the red card as wrong and that Carroll had been trying to shrug off Flores.
He added: "We are a club that understands there are rules and we abide by them. But you have every commentator and 80 per cent of the media saying it wasn't a sending off.
"Yet Howard Webb reviews the situation afterwards and says he stands by his judgement and when it goes to appeal and three guys stand by Howard Webb you feel 'how can this be right'.
"We are upset, we feel we have been badly treated."