James Tomkins praises local youngsters for work on transforming Olympic Stadium
James Tomkins has backed West Ham's use of local youngsters in the work to convert the Olympic Stadium.
By Emma Webb
Last Updated: 06/03/14 10:13pm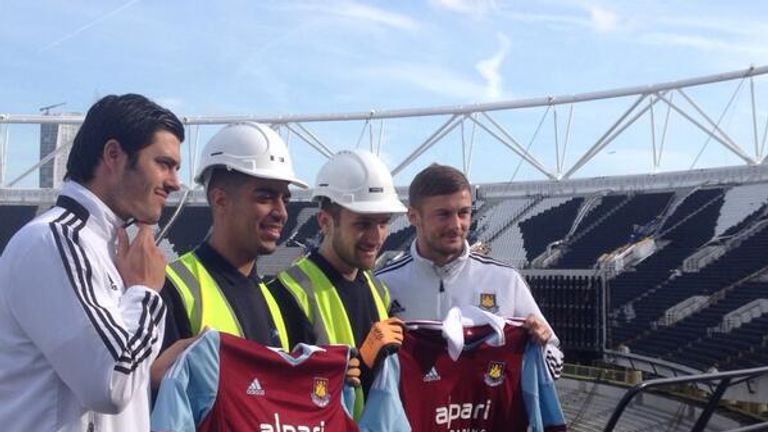 Engineering company Imtech has employed up to 60 apprentices from the Newham area as part of the Olympic legacy commitment to train and assist with the transformation, with 16 already securing permanent employment on and off the Park.
McCartney and Tomkins visited the site on Thursday and personally thanked the young men, including George Skuce and Mohamed Mohamed, for their contribution to the Hammers' new home while awarding them autographed West Ham shirts.
"It's a great project and it's great for the young apprentices working here," said Tomkins. "A lot of them are local and fans as well, which makes it even better.
"We wanted to show our appreciation to the apprentices for building us this lovely stadium."
The decision to move has been contested by some fans, but Skuce, 18, is a lifelong West Ham fan from Canning Town and has seen first-hand the benefits of the transition.
"It is the Olympic Stadium, it's got to be great," he said. "There is going to be retractable seating, the view won't be an issue, not at all.
"It's most definitely a great move for the club - it's like opening a bigger branch!
"The West Ham link was everything to me. I've been brought up with West Ham, supporting them from day one. It's definitely something I'll look back on with pride over the coming years."
West Ham United vice-chairman Karren Brady has played a key role in West Ham's move out of the Boleyn Ground and into the Olympic Stadium since 2011.
The development of the Imtech apprenticeship scheme has been of particular importance for her, in observing the pledge made to the West Ham fans and the people of Newham.
"We always promised that West Ham United's move to the stadium would create hundreds of jobs for local people and the fact that the stadium's stunning conversion is already transforming young lives is something that we are very proud of.
"I am personally delighted that fans like George are working on the project."
Whilst the internal building work still has a long way to go, the south of the park opens to the public on April 5.
It has been transformed into an area of landscaped gardens with a children's play area, for the public to enjoy ahead of the opening of the stadium.
The calendar for the Stadium is already filling up, with five matches of the 2015 Rugby World Cup scheduled to be played there, along with some events of the new Invictus Games, organised by Prince Harry for wounded soldiers, to be held later this year.