Sam Allardyce: Supporters should realise West Ham are showing top-six form
Sam Allardyce has told West Ham's unhappy supporters they have never had it so good during his time at the club.
Last Updated: 31/03/14 7:57pm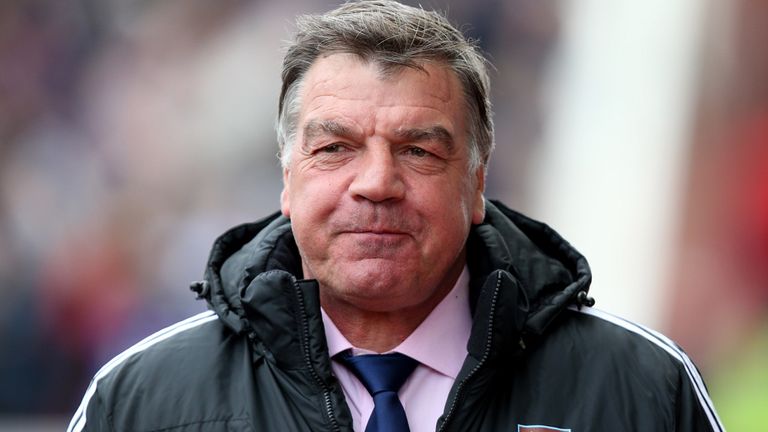 Allardyce was astonished to hear his side booed off by a section of the home crowd in midweek despite a 2-1 victory over 10-man Hull City which took them nine points clear of the relegation places.
The manager cupped his ear in response, and an apparently deteriorating relationship with supporters led to renewed speculation he might lose his job in the summer.
But Allardyce has since been publicly backed by the club's vice-chairman Karren Brady, and ahead of Monday's trip to third-bottom Sunderland he insisted a run of five wins in eight games represents "top-six" form.
"It's a small minority, but small minorities are good at voicing their opinion," he said. "It's all born out of frustration because they expected us to win more comfortably.
"Everybody in the cold light of day, when they calmed down, realised how important the win was, and everyone has to realise what we've done in the last eight games.
"We've taken 15 points in the last eight games - nearly two points per game - and that's about a top-six finish in the Premier League. At least a top-eight finish.
"So our form at the moment has never been as good, our results have never been as good at this stage of the season.
"We've beaten our points total in an eight-game spell. We've never done it before and we should all feel a little bit happier. I'm sure everyone who vented their frustration is happier we're nearer safety."
Allardyce dismissed suggestions his relationship with some supporters is beyond repair and revealed he is barely sleeping as he plans for a better season next year.
"You have to accept your position is one where you'll be criticised and praised off and on," he said. "You have to stay professional, keep your thick skin on and move on.
"It is very important to me to communicate with the fans and not hide what's going on behind the scenes.
"I don't sleep much. I watched Will.i.am on the telly last night and he only sleeps four hours a night like me, so...I was interested to see we have that in common.
"At the end of the day, we've had a difficult season. We plan to do better next season in the Premier League once we are safe."
Watch Sunderland v West Ham live on Sky Sports 1 on Monday night. Coverage begins at 7pm.