West Ham winger Stewart Downing wants fans to back the team
West Ham winger Stewart Downing has called on fans to back the team in their battle against relegation.
Last Updated: 31/03/14 7:23pm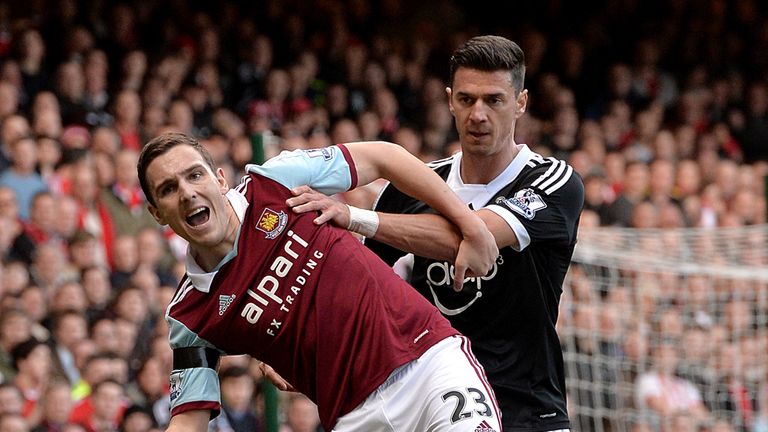 Manager Sam Allardyce and his West Ham side were booed last Wednesday following the vital 2-1 win over Hull and Downing admits he was surprised by the reaction from the home fans.
Speaking ahead of Monday night's Sky Live clash with Sunderland, he said: "We found it all a little bit strange, winning the game and getting booed off.
"In this game it's all about results. It wasn't pretty but the big thing is we got the points because it moves us closer to safety.
"In the situation we're in the most important thing was to get the win, especially against a team that was in and around us.
"We just play effective football to get results. When I was at Liverpool we played nice football but we finished eighth.
"There's no point playing good football and getting relegated. I did that with Middlesbrough."
Downing wants a more positive reaction from the Upton Park faithful in the next home game against Premier League leaders Liverpool .
"Players always hear it, especially playing at home," he said.
"I've had worse than that before: I've been at England games when there's been booing and that's 90,000 people.
"It can affect players and it puts people off their game. The more experienced people deal with it better.
"You need your fans onside. We've not given them much to shout about and it's been a difficult season.
"They've stuck with us all the way through and I'd ask them to stay with us right till the end. If we keep getting results we'll stay in the Premier League.
"Hopefully the next (home) game, Liverpool, we can give them something to cheer about and all will be forgotten."
Downing, who had a short loan spell at Sunderland from Middlesbrough early in his career, knows victory at the Stadium of Light could secure the Hammers' top-flight status.
But, in an unpredictable season, he is not resting on his laurels.
He added: "We should just get as many wins as we can on the board. Don't think one more game will be enough because we could easily get dragged back in again.
"It will be massive for us if we beat Sunderland. They've got games in hand, but difficult games.
"They need points desperately and if we can get a win it probably deflates them a little bit."
Watch Sunderland v West Ham on Sky Sports HD1 from 7pm on Monday night