West Ham manager Sam Allardyce banking on Andy Carroll and Stewart Downing for Liverpool game
West Ham's Andy Carroll and Stewart Downing could be key in halting their former club Liverpool says Sam Allardyce.
Last Updated: 06/04/14 3:45pm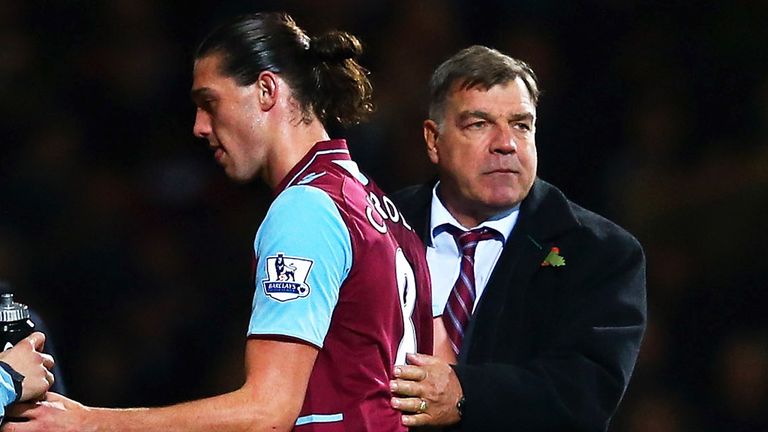 The West Ham manager knows Carroll, Downing and the rest of his side will have to be in top form if they are to end Liverpool's run of eight straight league wins that has taken them to the top of the table.
Carroll joined West Ham on loan from Liverpool at the start of last season having played only two games in that campaign for the Merseysiders following his £35million transfer from Newcastle United in January 2011.
The Hammers paid £15million to sign Carroll permanently in May last year. Although injured until January, his return immediately galvanised them, his two goals in ten games and physical presence helping them ease away from the relegation zone.
Former England winger Downing played 29 League games for Liverpool last season - including in their 3-2 win at West Ham - before moving to east London for a reported £5million fee in August.
Allardyce said today that had Carroll been fit all season, West Ham could have been challenging for a place in Europe.
"It's a possibility, yes," he said. "Since the turn of the year, our change of form and results has got better and better and now we're in the best run we've had since we've been back in the Premier League.
"We've got to take that confidence into Sunday's game and hopefully we can produce one of those performances that has happened many, many times in the Premier League this year.
"Just the other week Crystal Palace beat Chelsea, and Manchester City lost to Sunderland, things like that can happen.
"The rest of the team, and those two lads particularly, will want to show how good they are on Sunday," Allardyce added. "Let's hope they play very, very well, because we need them to."
He also praised Liverpool's Luis Suarez, the Premier League's leading scorer with 29 goals, as "one of the top two or three in the world" and described Sunday's opponents as "in terms of form and results, operating at 100 per cent."
Brendan Rodgers' Liverpool will be crowned champions for the first time since 1990 if they win their six remaining league matches.