Premier League: West Ham boss Sam Allardyce 'sickened' by lack of appreciation
West Ham manager Sam Allardyce says he is 'sickened' by the lack of praise his team have received in recent weeks.
Last Updated: 04/04/14 11:09pm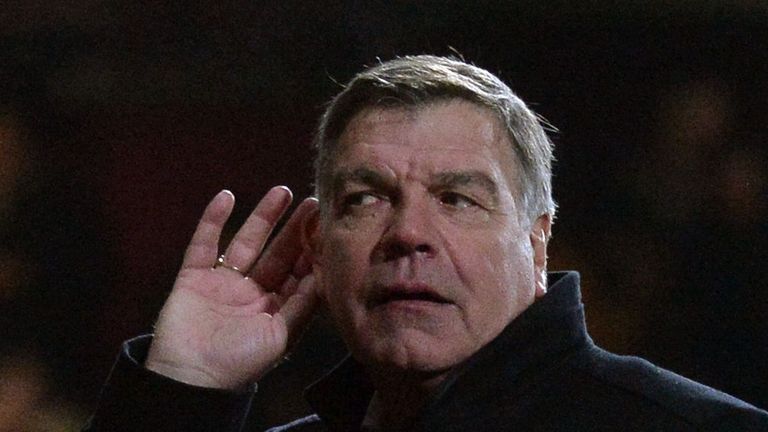 The Hammers have won six out of nine to pull out of the relegation mire, but they have won little or no plaudits and were even jeered by their own fans despite beating Hull City 2-1 last month.
Allardyce reacted to that by cupping his ear to the supporters and he admits he is frustrated that their improved form has not been recognised, or it seems, appreciated, because of a perception they are a dull, long-ball team.
"Well you see, it's all a load of bull," he said when asked about his side's style.
"I think that it's all about the perception and the reputation of Sam Allardyce, not the West Ham players and how they play. It's all perceived to be like this and nothing else.
"It is a load of rubbish and I can't help that. It's unfortunate for the players because this particular period of time, when they've achieved six winsout of nine matches, they get little or no praise for it and that's really sad.
"We've had our best run of results but nobody's talking about it. They're talking about a one-game scenario when people are booing because we've won against 10 men. It's life I suppose, but it's quite sickening to be honest."
Allardyce was retained as manager at Upton Park despite a desperate spell during the winter, with co-chairmen David Gold and David Sullivan continually backing their man rather than reacting to the poor form by looking elsewhere.
The main factor behind a winter of discontent was a chronic injury list, and as those players have slowly made their way back into the team, the Hammers have turned their fortunes around.
"They got slaughtered in December because they were losing football matches and now they're performing some of the best results they've performed since we got back in the Premier League," he said.
"It's top-six form and that's what we should be talking about, not talking about the type of football that we play because we play a type of football that suits the players, that's entertaining and it's winning.
"The game is about results - that's a fact. If you don't get results, you don't keep your job. If you don't get results, you get transferred. It's a results business, an entertaining business, and you try and put both together as often as you possibly can."
Meanwhile, joint chairman David Gold told Sky Sports News: "The fans have that right to boo - but all I'd say is I've not known a team play better because the fans are booing."