Championship: Blackburn's Michael Keane hails QPR's Ravel Morrison
Michael Keane is adamant Ravel Morrison will have a great career as the two prepare to meet in opposing colours.
Last Updated: 14/04/14 11:29am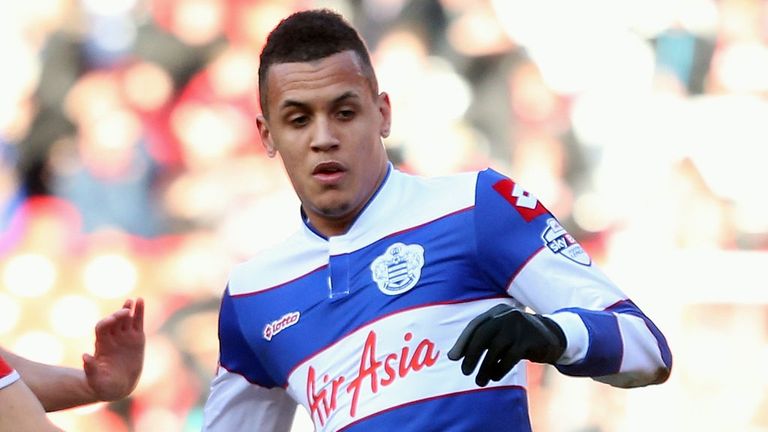 Defender Keane was in the Academy of the current Barclays Premier League holders when word of Morrison's blossoming talent began to spread.
Morrison was talked about as the best prospect to emerge from Old Trafford since Paul Scholes but, with numerous off-field misdemeanours threatening to see that talent go to waste, United decided to jettison him.
The England Under-21 international joined West Ham and showcased his much-talked-about ability in Sam Allardyce's side, becoming the top scorer earlier this season and producing a glorious individual goal against Tottenham.
However, things mysteriously turned sour at Upton Park and he was recently loaned to QPR, for whom he is likely to play against current Blackburn loanee Keane.
"He's a special talent; you can see that from when he was coming up from the Academy, from when he was 10 years old," Keane admitted.
"His attitude of not really caring on the pitch helps him because he tries things that other players wouldn't try and more often than not they come off for him because he's that good.
"We're going to have to defend really well against him and be organised around him and make sure he doesn't get on the ball and have the time he wants on the ball because otherwise he can damage us."
Morrison was talked about as being a possible inclusion in Roy Hodgson's World Cup squad earlier this season but those outside chances drifted to virtually non-existent once he joined Harry Redknapp's R's.
Keane, though, has praised his willingness to leave Upton Park to obtain first-team football and has no doubt he will still go on to be one of English football's leading lights.
"It's a little come down but he's still playing as well as he did when he was at West Ham and you can see he's going to kick on and have a great career," Keane argued.
"At this time it was obviously best for him to get out on loan and get more games. I think he's done the right thing and with his performances he's proven he's still good enough to play in the Premier League. He keeps scoring goals and hopefully it can continue for him, just not against us."
Morrison has scored five times for Rangers and was named Sky Bet Championship Player of the Month in March. And despite all those question marks surrounding his attitude, Keane painted a much different picture.
He continued: "I know him really well, he's a really nice guy. From what I can say, he's a really nice person and a nice lad to have around."
Blackburn boss Gary Bowyer knows all about shaping the careers of younger players after moulding the likes of Phil Jones, Junior Hoilett and current Rovers captain Grant Hanley in their Academy.
"If you look at anybody with talent, it's important that you build a relationship with them and a rapport and spend as much time as possible directing them in the right way," he noted.
Bowyer too has come across Morrison during his time in youth football and knows the potential the 21-year-old possesses.
He concluded: "I've seen his career from Under-14s when he was at Manchester United - he's a fantastic talent."