West Ham's Matt Jarvis thinks he may need to be more clever after Arsenal penalty incident
West Ham's Matt Jarvis says he may have to be "a bit more clever" after staying on his feet despite Bacary Sagna's foul.
Last Updated: 17/04/14 9:59am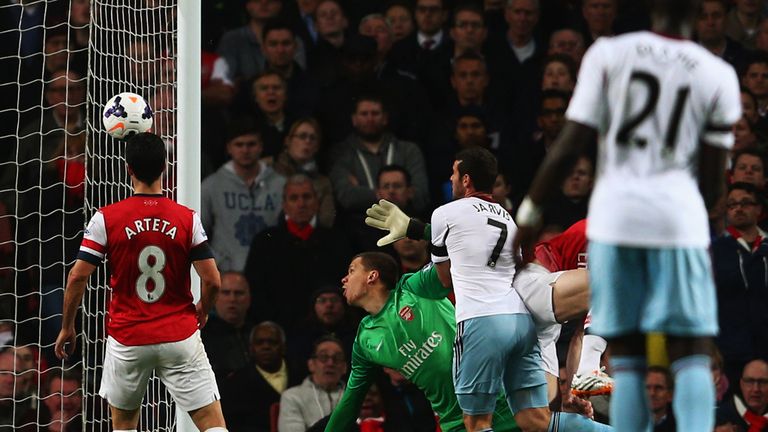 Jarvis nipped the ball past Sagna inside the penalty box and appeared to be clipped by the full-back's challenge.
But the former Wolves player chased the loose ball rather than hit the deck, prompting a debate over whether players should always extract the maximum advantage for their side by going down when fouled in the area.
"The manager was disappointed as I could have had a penalty too," Jarvis, who scored his side's goal in a 3-1 defeat, told the Hammers' official website.
"I don't know if it was a foul. I don't know if I had gone down whether it would have been a penalty or whether I'd have been booked. Maybe I should learn from that and be a bit more clever."
Referee Kevin Friend decided against giving a penalty after the incident, which happened when the game was still locked at 0-0.
"For years now, the facts are that when you stay on your feet, referees do not give penalties," said Hammers boss Sam Allardyce.
"For honesty, there is no reward, so what do I do? A foul is a foul, it does not matter if you go down or stay on your feet.
"We get slaughtered for diving or being dishonest, but when someone is honest and does not get what you should get... so then you should go down and make the referee's mind up for him."
Sky Sports pundit Gary Neville said the harsh reality was that a modern-day professional player should be doing everything to win a penalty for his team.
"He should go down," said the former England defender. "You can either be an angel and do what Matt Jarvis did and you can get a pat on the back off his nan when he goes home, or he can win his team a penalty.
"If Kevin Friend gives the penalty, it would have been the perfect scenario for football. The best scenario would be if refs give penalties where a player doesn't have to go to ground - but they never do."