PFA deputy chief executive Bobby Barnes says referees need to reassess penalty decisions
PFA boss Bobby Barnes says referees need to be prepared to give penalties even if a fouled player stays on his feet.
Last Updated: 17/04/14 9:57am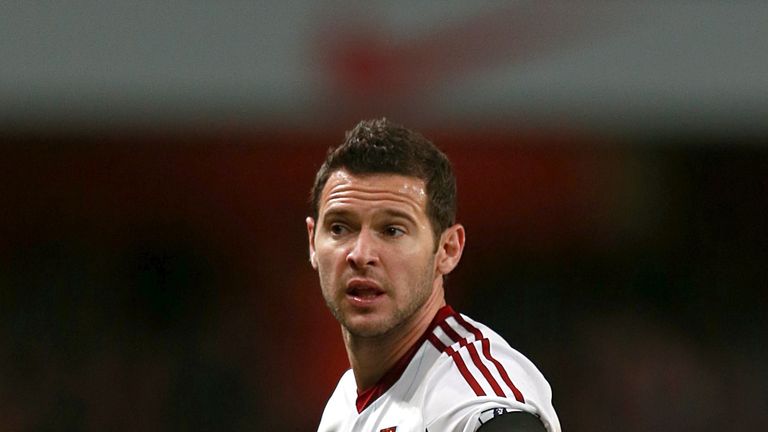 West Ham winger Matt Jarvis inadvertently sparked a debate after he battled to stay on his feet despite being clipped by Arsenal's Bacary Sagna in the box in his side's 3-1 defeat at the Emirates Stadium on Tuesday.
"It's ironic because of all the furore there's been in recent weeks about simulation and players not staying on their feet," Barnes told Sky Sports News.
"Matt is a genuine and very honest lad. I've spoken to him and he's surprised by the storm there's been. It's a bit unfair because he's attempted to do the right thing and leave the ref to make the decision.
"And had he gone down and not got a penalty, he might have ended up getting a yellow card so it really was the case that he couldn't win."
Jarvis has himself hinted that he may change his approach, saying he may have to be "a bit more clever" in the future.
"The difficulty is that Matt is in the situation where the next time he's touched in the box he'll have to very seriously think about going down," admitted Barnes.
"In an ideal world you wait for the officials to make that decision but on this occasion, Matt has been punished for doing that.
"What you'd like to see is that the officials look at the decision and see that he has been impeded and, whether he's gone down or not, it's still a foul.
"If we're not careful we'll get to a situation where players think they can't rely on the officials and feel like they have to embellish things slightly - and then we get back to the whole world of simulation.
"I thought there was clear contact and whether he went down or not there should have been a penalty. I'm not going to criticise the refs because, what they're probably now so conditioned to expect is that, if a player is touched, the likelihood is he will go down.
"The message is that we want to stamp out simulation and players going down too easily but Matt has been punished for that. We're having to put more faith in the fact that referees will actually look at incidents more closely and make the right decision."