Sam Allardyce warns West Ham players to stay focused ahead of trip to West Brom
West Ham boss Sam Allardyce has warned his players any lapse in concentration at West Brom on Saturday could be costly.
Last Updated: 26/04/14 2:21pm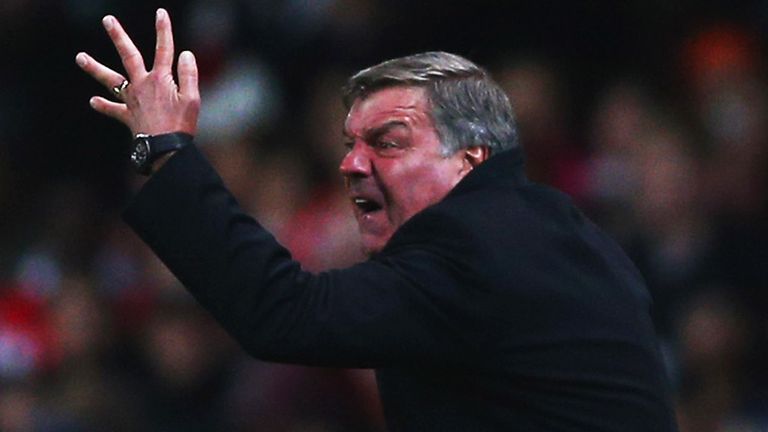 He feels his side's efforts in recent weeks should have yielded more rewards but for a lack of focus from his players at key moments.
"We don't want any major decisions going against us, but more importantly I don't want my players to start making the basic errors they have made in the last three games which have cost us very dear," said Allardyce.
"We have been very satisfied with overall performances, but at certain times mistakes have been made which shouldn't have been made and we have been punished heavily for them."
West Ham won four successive league matches in February to put daylight between themselves and the battle for Premier League survival but only managed two wins from five in March and since then have followed defeat to Liverpool and Arsenal with a 1-0 home loss against rejuvenated Crystal Palace.
With his side seeking a single win to reach the fabled 'safety' of the 40 point mark, Allardyce knows the trip to the Hawthorns will not be easy with West Brom fighting to move more than three points clear of the relegation zone.
Since February, Albion's results have included home draws against Liverpool, Chelsea, Tottenham, Fulham and Cardiff plus wins at Swansea and Norwich.
Allardyce knows all too well the importance for his side to retain composure against West Brom, with their final two matches against Tottenham and Manchester City.
"The pressure will be pretty intense because we all know what is at stake. We have to handle it better than West Brom," said Allardyce.
"They have had a resurgence and at their home ground have been so close to so many victories and only slipped up in the dying seconds of two particularly thrilling 3-3 draws.
"We don't want to be in that position where we are trying to fight our way back from behind on Saturday.
"We want to be keeping a level playing field for as long as possible and our goal would be to do what we did at Sunderland, which was score the first goal and then go from there."
He added: "There is always a need for your team to gain points against teams who have been below you or certainly not lose against them. That became really apparent when we won at Sunderland a few weeks ago, that the distance we put between us and them was critical for us at that time.
"That has always been the case and it will certainly be the case against West Brom.
"The points against the bigger clubs are just your bonus, the icing on your cake, but competing against the teams around you to win and draw against them has always been critical in where you finish the season."
Hammers goalkeeper Adrian - who played under Baggies boss Pepe Mel when the Spaniard was at Real Betis - is confident West Ham can produce the required performance.
"Here in the Premier League, every game is hard. At the moment, when the season is nearly finished, the games are even tougher," he told the club's official website.
"West Brom are only three points above the relegation places, they really need these three points, but we are going there to win the game."