Premier League: West Ham boss Sam Allardyce admits he has to shoulder the responsibility
Manager Sam Allardyce admits he has to take responsibility for West Ham's dismal form in the Premier League.
Last Updated: 26/04/14 7:37pm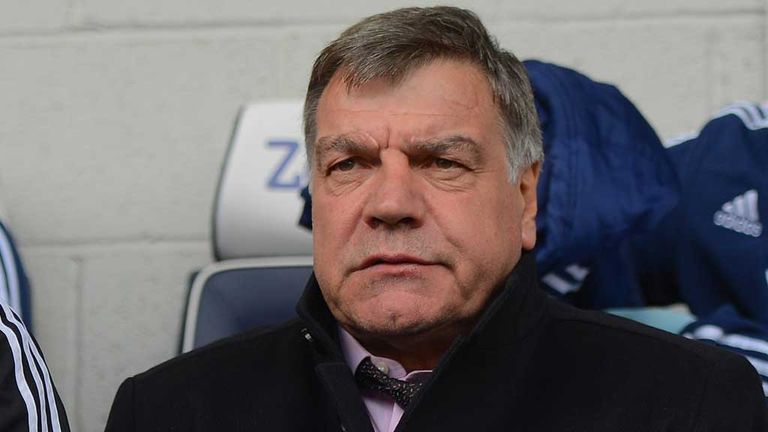 Saturday saw the Irons slump to a 1-0 defeat at West Bromwich Albion, with Saido Berahino's goal condemning the East London side to their fourth successive defeat in the league.
A number of West Ham fans voiced their frustrations throughout the game, and Allardyce admits that their recent results have not been good enough.
"It's normal for West Ham fans to show their disapproval when they're not happy with what's going on, so I accept it because I'm the manager at this moment in time - just like all the other managers have accepted it before me," he told Sky Sports.
"You have to accept it and move on. I've got to get my team playing and winning, when they do that, it dies down and we all look forward to another Premier League season next year. But we still have a lot of work to do, no doubt about that.
"I'm focused on the fact that at this moment in time, my results are not good enough. That is a pressure on me, a pressure I have to accept and a criticism I have to accept," he added.
"It's my responsibility to get the team picking up points and they've let themselves down, not on the poor performances, but certainly on the finishing and the way that they've given some silly goals away."
The Hammers boss believes their performance at The Hawthorns warranted a goal, but admits that poor defending cost them dearly - leaving them just one point ahead of the Baggies in 14th place.
"We had a similar problem against Crystal Palace, but this time we gave a silly goal away when we're on top of our game, creating havoc in the opposition's box but not converting the chances. Last week (against Palace) it was a silly penalty we gave away, this week it was a silly goal," he said.
"We gave ourselves an uphill climb. By the way we were playing and the chances created I'd have expected us to score at least one today.
"Our finishing has let us down, not the creating but the finishing sadly. We've ended up with a very disappointing defeat again - on the back of three performances that were pretty good but no results," he added.
"It's of great concern to me because we still need the points on board. The players still need to play and perform for the fans that pay and watch them, and get results for them. It's OK playing well but it's no good if you lose and the fans showed their disapproval about that today."