Premier League: Sam Allardyce labels criticism by West Ham fans as 'nonsense'
West Ham manager Sam Allardyce has labelled fans' criticism of him as "nonsense".
Last Updated: 01/05/14 1:57pm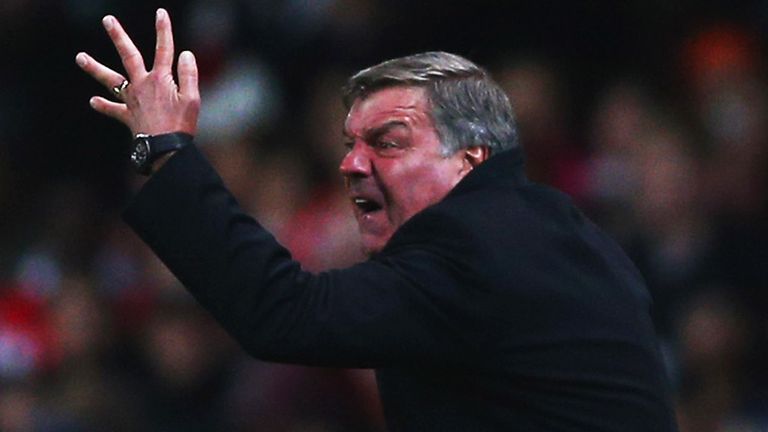 A banner unfurled during last weekend's 1-0 defeat to West Brom - the Hammers' fourth straight loss - called for Allardyce to be sacked, with negative tactics cited as the primary reason for supporters' unrest.
But Allardyce, whose side hosts Spurs in Saturday's lunchtime kick-off having already beaten them at White Hart Lane twice this season, says he sets his teams up to get the best result possible.
"It is a nonsense," he said. "Their perception is because we haven't won (in four games).
"When we went to Chelsea and they were all very, very happy that was based purely on a well-structured defensive ploy with little or no football at all. But it was still hailed as a great performance.
"You can't expand and open up against Chelsea because you lose five or 6-0.
"We play to win when we play a game and if we don't play to win we play not to lose. Our biggest problem is that we haven't drawn enough in between the wins."
Allardyce accepts that constant speculation and pressure on managers is part of the modern game.
"No one wants to see things like that (the banner at West Brom) and wants to be criticised," he added.
"It is what it is at the moment. It is part of the job today and altogether people keep telling me how to play and the performances we need to give.
"In our last four games our performances have been good, but without a result comes the criticism. It is about results, not what you have done for the 90 minutes, it is what has come out of the end of it.
"Of course it (criticism) bothers you but you don't let it affect your clear thinking. You concentrate on the players and make sure they continue to strive to get better and better.
"This year, while the league has been extremely entertaining, we have had ups and downs. It has been a pretty hectic season, a pretty demanding season for us all, and I think that is shown in the fact that 10 managers have changed in one season."