West Ham's Sam Allardyce says Tottenham counterpart Tim Sherwood has proved himself
Sam Allardyce believes Tottenham head coach Tim Sherwood has shown he can handle the pressure, but no-one's job is safe.
Last Updated: 02/05/14 2:51pm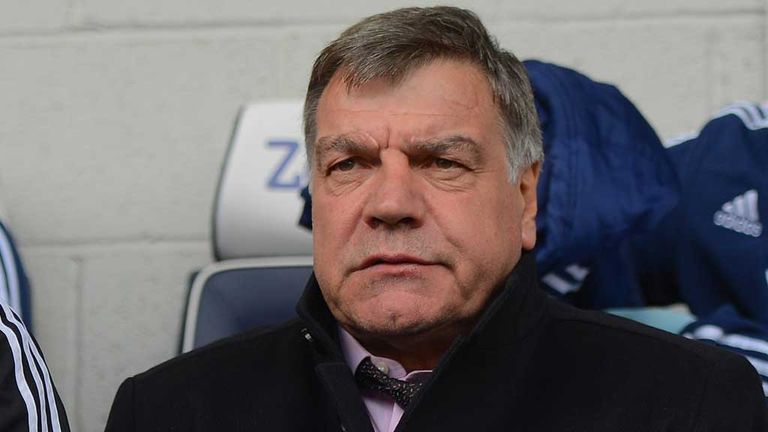 Sherwood takes his Tottenham side to face Allardyce's West Ham at the Boleyn Ground on Saturday looking to avoid a third defeat of the season at the hands of the Hammers.
The 45-year-old replaced Andre Villas-Boas at White Hart Lane in December but has constantly had his position undermined as other names are linked with the job.
Allardyce has also come under pressure recently as a number of West Ham fans have started calling for his head after a run of four straight defeats.
"In our field you never know what's going to happen," he said. "You're never comfortable, wherever you are, and in Tim's position I think he's proven that he can handle the job and he's proven that he's learned as he's gone on.
"You're bound to slip up when you're doing it for the first time, I still slip up after 20-odd years. We all make mistakes, but you learn from them and I think he's learned very quickly.
"I think Tottenham have done very, very well under him and what they decide at the end of the day is up to the owners and board at Tottenham."
Having already beaten Spurs twice at White Hart Lane this season, once in the league and then in a Capital One Cup quarter-final, West Ham defender Winston Reid is keen to complete a memorable hat-trick against their local rivals.
"We've got Tottenham on Saturday and we'd all love to end at home with our third win over them of the season," he told the club's official website.
"It's a local derby and I'm sure the fans will be up for it. We have to go out and make things right after we lost our last couple of home games, so we'll be looking to improve on that.
"The two wins over them have been two of the highlights of the season. We know it'll be another tough game on Saturday, but we'll relish the challenge.
"We haven't been winning lately, but but we've got two games left and we'll do our best to pick up as many points as possible."
Allardyce is aware of the threat that will be posed by sixth-placed Tottenham but is hopeful his side can pick up a result and begin to turn the tide of fan discomfort.
"They come and play and try and open up because of the quality of players that they have," he said.
"They will think their eleven is better than yours, but on the day if your players hit top form we're more than capable of beating them.
"We have to be very wary of what their strengths are and make sure their strengths are nullified. Then we have to make sure we use our strengths to try and break their defensive unit down and take our chances when we get them."