Sam Allardyce confident he can deliver top 10 finish for West Ham next season
West Ham boss Sam Allardyce is confident he can steer West Ham towards a top 10 finish next season.
Last Updated: 22/05/14 2:04pm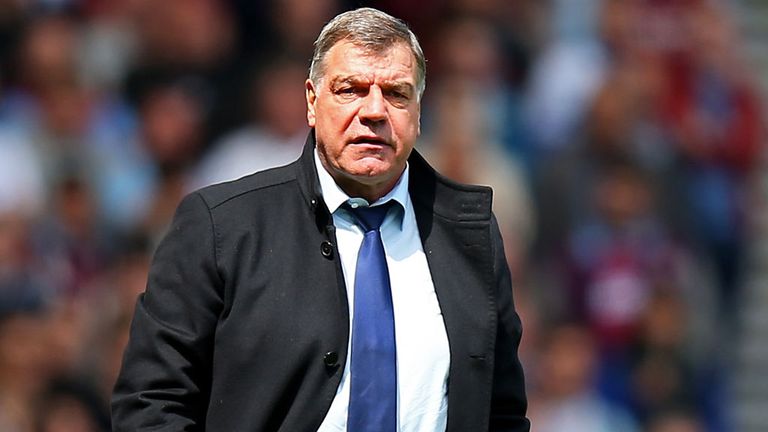 The east London club announced on Tuesday that Allardyce would remain as manager, but the board have urged him to adopt a more positive style of play and hire a new attacking coach.
West Ham languished near the drop zone for long spells in the last campaign and chairmen David Gold and David Sullivan have called for improvement, targeting "at least a top-10 finish".
Allardyce took plenty of positives from his talks with the owners and is confident he can implement the required changes.
"The past is the past, you can't change anything - the crucial thing is to learn from it," Allardyce told the club's website.
"I am happy and proud to continue for another season as West Ham manager.
"I have had good, fruitful meetings with my employers and we are all in agreement that we want to move this great club forward in a united way.
"To that end we - the board, the staff, the players - are unified in wanting to create an exciting team for next season, one that is going to be better than last season.
"I sat down with the owners and Karren Brady to discuss many things and the outcome of that meeting is that we are all moving forward in a very positive manner.
"Things have been resolved satisfactorily on both sides and we now look forward to a productive summer and hopefully a very successful season.
"We want to try and achieve at least what we did in the first year back in the Barclays Premier League, which was a top-10 finish."
Allardyce has plenty of top-flight experience, but is open to the addition of a new face in his coaching set-up.
West Ham's lack of goals has been a constant problem and he recognises it must be addressed.
"I am enthusiastic about that idea. We all agreed that whoever comes in has to be qualified and of the right type to supplement our already highly qualified backroom staff, in whom I have complete confidence," he said.
"The appointment is absolutely down to me and the challenge is to find the right person to help us score more goals next season, because that is what we need to do."
Reflecting on a more attractive brand of football, he added: "Style of play is crucial, but it is also important that players realise their capabilities and play to them on a consistent basis.
"What we are striving for is the players playing well, as they did in the final home game of the season against Tottenham - a club who had spent many more millions of pounds than us - but not for one game, but consistently.
"We will all be striving hard to achieve that consistency when we resume training and if we can regularly find that standard, then I am sure the supporters will be as happy as I will.
"Entertainment value, contrary to what some people say and think, is high on my list and always has been because this is an entertainment business.
"It is also a results business, though, and we need to win matches. If we can win games the right way next season then that has to be our ultimate aim and number one priority, particularly at home."
Allardyce hopes to bring in summer recruits to ensure the club can compete with their close rivals.
He said: "I am not going to make any predictions at this early stage - certainly not before looking to see what everyone else does during the transfer window - but by the time we begin the new campaign we should have a clearer picture of how far we feel we can go.
"We are all aiming for a top-10 finish."