Premier League: Mark Noble welcomes West Ham's appointment of Teddy Sheringham
Last Updated: 04/07/14 5:11pm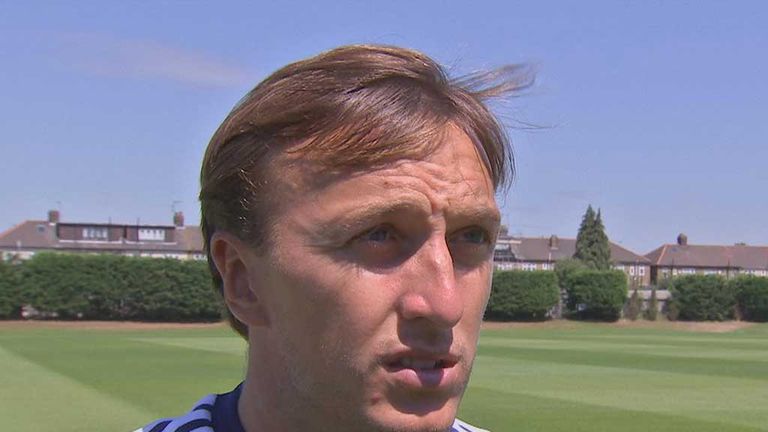 Mark Noble is confident the appointment of Teddy Sheringham as West Ham's new attacking coach will help improve results.
They finished 13th in the Premier League last season but the club's owners want a more adventurous brand of football and Noble believes Sheringham can be the catalyst for a more forward-thinking approach.
"They've brought him to the club because of his knowledge of the game and what he has done over the past 20 years," Noble told Sky Sports News. "I think with bringing someone in with the knowledge and experience that he has got will be fantatstic for the club.
"Hopefully he will have an impact on how we play but he will be working with the forward boys primarily. It's all about being in the right place at the right time and hopefully he can pass that one to our forwards."
Tony Cottee is also confident that the arrival of Sheringham can signal an upturn in fortunes for his former club - but stresses that they will have to strike the right balance between attack and defence.
"I think it is a great appointment," he said. "Obviously, Teddy is a vastly experienced player and he is just branching out into the coaching world so it's a great for Ted and for the club.
"It is great that the fowards wil have someone like that to bounce ideas off and someone who has got that much experience, who has played for England and was a wonderful striker and scored some great goals. Hopefully some of his magic can rub off on our strikers.
"They have got to get the balance right. Last season they got a lot of clean sheets and were much tighter at the back than you might associate with previous West Ham teams. The problem was that perhaps we were defending so much we weren't creating as much as we should have done. 
"The empahsis has always been on the West Ham way of playing entertaining, attacking football. The board have looked at it and that's what they want and I'm sure that that is what Sam wants as well. 
"But it is important that you combine that with results. There is no point in playing fantastic football and losing 4-3 every week, as entertaining as that would be for the fans."