Premier League: West Ham new-boy Cheikhou Kouyate almost quit football as a youngster
Last Updated: 15/08/14 10:54pm
West Ham midfielder Cheikhou Kouyate revealed his grandmother's intervention stopped him from almost calling time on his football career as a teenager.
The 24-year-old joined West Ham from Anderlecht over the summer and is in line to make his debut for his new side in Saturday's Barclays Premier League opener against London rivals Tottenham.
But Kouyate revealed his struggles with homesickness when he first moved to Europe almost resulted in him cutting short his career as a youngster.
"I left Senegal at the age of 17 - first to go to Greece, then to France, and then to Belgium," he said.
"It was so difficult that I wanted to go back to Senegal. But my grandmother on the telephone, the president of my club, my mum, they told me to stay put.
"After three months I really wanted to go back to Senegal and stop playing football. Because it was the first time I had left my country without my family, I had nothing and was completely on my own.
More games that matter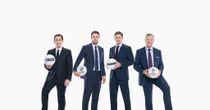 Click here to see Sky Sports' unrivalled schedule of live Premier League fixtures
"It was really cold. It was the first time I had seen snow. It was tough. I asked for advice from my agent, my family, all the people who loved me. After that I told myself, 'Okay, I am going to stay put'.
"I was on my own a lot of the time, but I got used to it. It was then my mental strength began to increase, I became tougher.
"My mentality became very strong. Now I feel I can go anywhere. To play in England was a dream since I was a kid. It became an obsession - I knew I had to come, no matter what."
Kouyate has drawn comparisons with Senegal-born former Arsenal captain Patrick Vieira and he knows he must persevere if he is to make his stay an England a successful one.
"I've fulfilled my dream to come here," he said. "I must not stop.
"I must work hard in training - suffer, even. I must continue to do good things. Words don't achieve anything. I have to show what I can do on the pitch.
"My main dream was to play in the Premier League. It's a very tough league and I used to follow it every week.
"I want to give my best to live my childhood dream and to try to progress, from day by day. To do that, I have to work hard. I don't have any fear about this new challenge."