Ref Watch: Were Liverpool lucky? Should Tom Huddlestone have seen red? Saints denied a penalty?
Last Updated: 20/03/17 3:24pm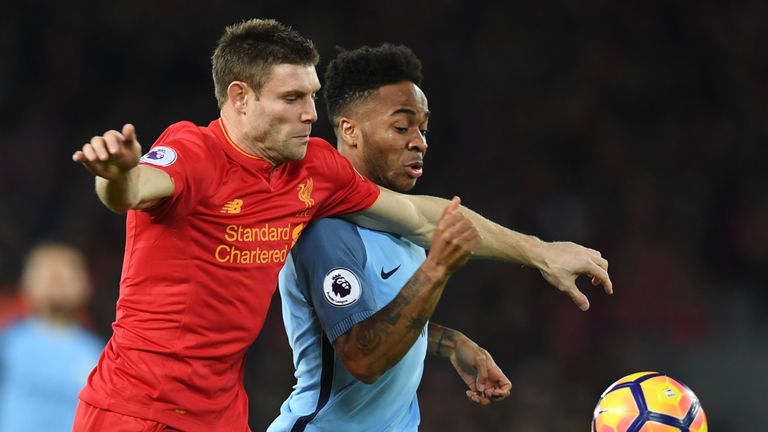 Was James Milner lucky not to give away a penalty? Should Tom Huddlestone have seen red for Hull at Everton?
In this week's Ref Watch, Dermot Gallagher gives his take on a busy weekend for Premier League referees across the country.
Manchester City 1-1 Liverpool
Milner on Sterling
INCIDENT: James Milner catches Raheem Sterling from behind as the midfielder looks to convert from close range. Sterling then misses the ball because of the touch from Milner, and Fernandinho misses at the far post too. Nothing given.
DERMOT'S VERDICT: PENALTY. The first problem is Michael Oliver is not really in the best position, so he's looking for clues. I think it is a penalty, but it's a penalty he can't give because he's not sure. If they're going to look at the clues, they are there, for instance why would Sterling go down? It was a difficult, difficult decision, and one I don't think he was willing to gamble on.
Yaya Toure's high foot
INCIDENT: Yaya Toure loses out in a 50-50 with Emre Can, and his high boot catches the chest of the Liverpool man after the ball has gone, receiving a yellow card. Both players were on the floor at the time.
DERMOT'S VERDICT: YELLOW CARD. I think he got it just about right. The boot is high, but the players are on the floor. It's high in relation to where Can is. Toure almost goes to pull out at the last minute. It's not nice, but it's just about right.
Otamendi on Mane
INCIDENT: As Sadio Mane runs through to goal, he goes down in the area under pressure from Nicolas Otamendi. However, Mane seems to kick the back of Otamendi's leg and he looks to shoot. Nothing was given.
DERMOT'S VERDICT: NO PENALTY. He's a far better referee than me, because I said penalty straight away. It is not a penalty, and Mane actually catches Otamendi's calf. It's a brilliant, brilliant spot.
Middlesbrough 1-3 Manchester United
Bailly and Gestede scuffle
INCIDENT: Rudy Gestede and Eric Bailly come together at a free-kick, and though there was a suggestion that the players had bitten each other, Gestede said after the match there was no bite. No cards were shown.
DERMOT'S VERDICT: I'm not sure the referee (Jon Moss) could show any cards because he was setting up the wall and didn't see the incident; he hasn't seen what sparked it. He didn't brandish yellow cards and close the door on the incident, and now it can be looked at by the FA, and the process can follow its course.
Everton 4-0 Hull
Huddlestone red card
INCIDENT: Tom Huddlestone is sent off for Hull by Paul Tierney for a late challenge on Idrissa Gueye. Both managers said the red card changed the complexity of the game.
DERMOT'S VERDICT: YELLOW CARD. I don't think it was a red card to be honest. The problem is, we talk about consistency, but it's very difficult from one game to another. The referee thinks he has gone over the ball there, but I think it's a yellow card.
Tottenham 2-1 Southampton
Davies on Tadic
INCIDENT: As Ben Davies looks to clear the ball inside the area, he catches Dusan Tadic on the knee as the Southampton man ran in behind him. Andre Marriner waved play on.
DERMOT'S VERDICT: NO PENALTY. The easy answer for me is Tadic's reaction. I can't see any reason why a player would go down like that, and that would sell it in my mind. I can't see many referees giving a penalty there. It's just not a natural way of going down.
Sky customers can now upgrade to Sky Sports and get 12 months for just £18 per month. Upgrade now!