Clough praise for Rams
Nigel Clough was delighted with Derby's win at Watford, while Sean Dyche was left deflated.
Last Updated: 13/08/11 7:19pm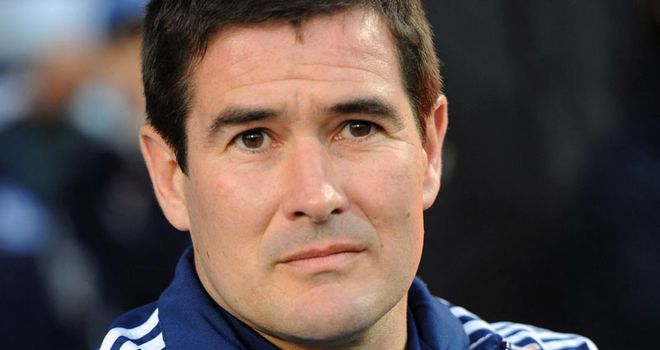 Nigel Clough admitted his Derby side had not been at their best as they maintained their 100 per cent start to new season with a 1-0 win at Watford, which left Hornets boss Sean Dyche deflated.
The Rams were second best for most of the contest, with their hosts creating the bulk of the scoring opportunities, but the game's decisive moment arrived seven minutes after the break when Steven Davies latched onto Lee Croft's throw and turned before striking a long-range effort that flew past Scott Loach.
Clough said: "The first half was not very good at all and we knew we had to improve.
"I think the difference between this and when we came here last season - we were 3-0 down at half-time and played better than we did in the first half today - but we've got a bit more resistance about us at the moment.
"The goalkeeper, the two centre-halves are different from this time last season and I think it showed."
Frank Fielding again showed why he has succeeded Loach as England Under 21 goalkeeper, producing a fine double save at the end of the first half to ensure the Rams went into the break level and then making two outstanding stops in the second period to keep them in front.
Clough described him as "brilliant" and added: "You try to get the spine of your team right and Frank, Mark O'Brien - he did unbelievably well today - I need some experience in midfield and when we get Nathan [Tyson] up the top getting on the end of a few things we'll be okay."
The Rams boss also paid tribute to match-winner Davies, who was replaced soon after scoring, but he explained: "He's shattered. He hasn't played for two or three seasons.
"He's got two goals now in two games but one pre-season won't make him fit. He needs to build up over three, four months. He's missed so much football in the last five years."
Hornets view
New Watford boss Dyche was left to wonder how his first home league game at the helm ended in defeat.
"I told the lads they picked our pockets," he said. "To be fair to Nigel, he's been in it longer than me, but you have to do that sometimes. So we'll have to do that to someone else. It just hurts when someone does it to you - that's the reality of it."
He continued: "It's a strange one. The fact is you don't get three points, you don't get anything out of the game, but it's bizarre because we're giving them a number of positives.
"The general performance of the team I felt was better than last week at Burnley, yet we got a good point up there. There were some individual, very strong performances I felt today.
"The side looked very fit, it looked capable, it looked organised. So there's so many things that me and staff are looking at and the players are looking at, thinking 'there's a lot of good things here'.
"They are all positives to build on in the future but the reality is you don't get any points."