Thorn satisfied with point
Andy Thorn believes Coventry now have a platform to build on after their draw with Watford, while Sean Dyche wants to strengthen his squad.
Last Updated: 20/08/11 6:44pm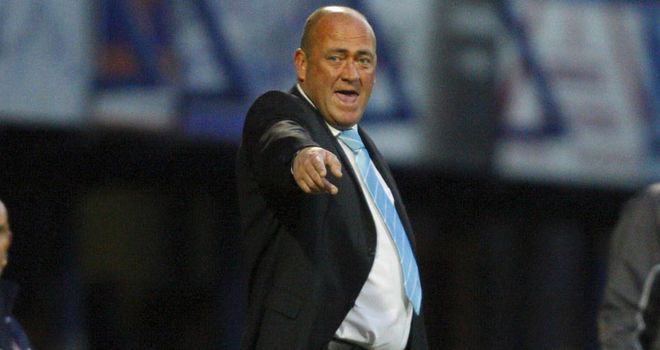 Andy Thorn believes Coventry now have a platform to build on following their goalless draw with Watford, while Sean Dyche is still looking to strengthen his Hornets squad.
Both teams had chances - as well as shouts for a penalty - but their lack of firepower shone through as neither managed to force a winner.
Watford did have the ball in the net when Mark Yeates hammered home from close range just before half-time but his effort was ruled out for offside.
And Thorn was pleased to see the Sky Blues finally get their Championship campaign up and running with a point at the fourth attempt.
Thorn said: "We rode our luck a bit in the first half but the goal was a mile offside and I was pleased with that because that was something we had worked on.
"We had to change our system back to a diamond in the first half because Watford came here well organised. We had a good chat at half-time and I thought we played really well in the second half.
"On another day, we might have nicked one but I thought it was a fair result overall and was quite an entertaining 0-0. That's a nice platform for us to build on.
"I have had another look at the penalty shouts - and I don't think any of them are!"
Effective
Watford boss Dyche was disappointed not to claim a victory that would have taken his side out of the bottom three, and felt they should have had at least one penalty.
He is now looking to bring in some new players before the transfer window closes but accepts it is difficult to compete financially with other Championship clubs.
He said: "I thought our first call for a penalty was as near definite as can be and the second one was definite. But I have to say, the officials do a good job and have a tough job.
"In the first half we had some good chances - some golden chances - and you can only believe that once the cork comes out of the bottle that it will all start to flow.
"We could be sitting here with five points and that would be a decent little start but my job is to get us playing effective football that wins us matches.
"We are looking to strengthen but within our market - which is different to a lot of other clubs in this division."