Wenger - Chamberlain is ready
Arsene Wenger is set to give Alex Oxlade-Chamberlain the opportunity to shine in the New Year and has predicted a bright future for the winger.
Last Updated: 27/12/11 12:25pm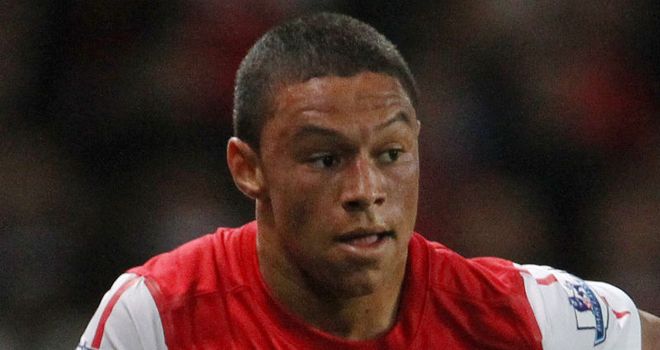 Arsene Wenger is set to give Alex Oxlade-Chamberlain the opportunity to shine in the New Year and has predicted a bright future for the young winger.
The 18-year-old arrived at Emirates Stadium from Southampton over the summer but has so far had to wait patiently for first-team chances, with Wenger opting to take the conservative approach.
Oxlade-Chamberlain scored on his UEFA Champions League debut against Olympiakos in September but his only taste of Premier League action to date came as a substitute in the 8-2 mauling at Manchester United on 28th August.
While Wenger feels that introduction was 'not the best of favours I have done', the Gunners boss is in no doubt Oxlade-Chamberlain can go from strength to strength in 2012 - which could even end with inclusion in the England squad for the European Championship.
"In 2012, at the beginning of the year, he will play games. He is not far," said Wenger, whose side will host Wolves at the Emirates Stadium on Tuesday in a fixture which was put back from Boxing Day because of industrial action by some London Underground staff.
"Alex is a talented boy, it is all there - he just needs that toughness in the game and because every game for us is so tight.
"At Aston Villa last week, again, I could have brought him on and you have the hesitation to do it - but you do not want him to be a little bit overruled by the intensity of the game.
"He is ready to play. Alex is just missing that experience at the top level. You have to throw him a few games."
Park challenge
Arsenal head towards 2012 with their defence stretched because of injury, which could see Wenger enter the loan market as the transfer window opens again on 1st January, when he is also set to make a decision on whether to bring former captain Thierry Henry back on a short-term deal ahead of the new Major League Soccer season.
Given both Ivory Coast forward Gervinho and Morocco's Marouane Chamakh will both shortly be away at the African Cup of Nations, Wenger is set to need all of his attacking options available.
As yet, Arsenal have seen only glimpses of what South Korea captain Park Chu-young is capable of, with a well-taken finish in the Carling Cup win over Bolton his only goal so far from four appearances - none of which have come in the Premier League.
Wenger, though, accepts the 26-year-old has to go through a period of acclimatisation following an August transfer deadline move from Monaco.
"It has been difficult because I have not given him the chance to play and the intensity of the challenges - some players take short, others take long. But it takes you time," said the Arsenal manager.
"You see a player like [Laurent] Koscielny last year, he was still sometimes surprised by the physical demands of the game. This year, he is dominating the physical challenge, that shows it takes time."