Almunia happy to feel wanted
Former Arsenal goalkeeper Manuel Almunia is glad to feel wanted again after joining Championship club Watford.
Last Updated: 05/08/12 11:09am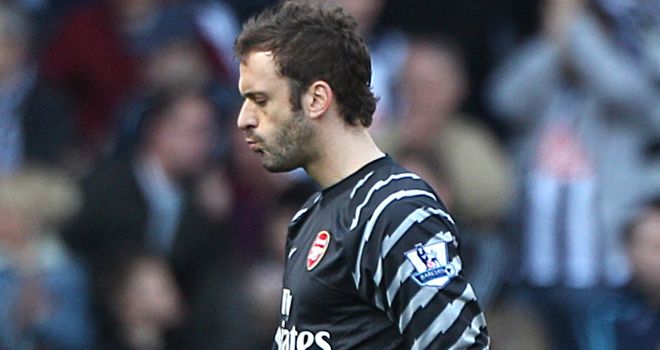 Former Arsenal goalkeeper Manuel Almunia is glad to feel wanted again after joining Championship club Watford.
The 35-year-old linked up with the Hornets this summer on a free transfer after spending eight years with the Gunners.
Despite playing 175 games for Arsenal, the Spaniard's spell at the Emirates Stadium was fraught with difficulties.
He was even jeered by his own supporters at times and is relieved to be at a club where he instantly feels valued and respected.
"After Arsenal, I just wanted to go to a place where I feel wanted, respected and loved, and made to feel like a good goalkeeper again," Almunia told the Sunday Mirror.
"That's what I have found at Watford.
"On my first day at Watford, the captain, John Eustace, came to me and said, 'We needed a good goalkeeper and we are lucky you are here'. That made me feel proud and good about myself.
"As a person, I always felt loved and respected at Arsenal, but as a player it is different. When you don't play you don't feel wanted or loved and your self-belief goes down.
"Once you stop being with the team every weekend and travelling with the team, people forget you."
Regrets
Almunia leaves Arsenal with regrets - particularly regarding his decision to play on with an elbow injury in the 3-2 home defeat to West Brom in September 2010.
The Pamplona-born keeper saved a penalty but then conceded two poor goals while battling on with the injury and he admits it hit him hard.
"I have big regrets about that game because maybe if I had stopped playing I would have played many more games for Arsenal," said Almunia.
"It was such a difficult time. At half-time I had been so happy about saving a penalty, but everything then went wrong for me, and I couldn't understand why.
"It was so, so hard to cope with. One day you are number one and everybody wants you, and the next day you disappear. I am quite a sensitive person and I am not good in the bad moments.
"I didn't talk to anybody about how I felt because I don't like to disturb people with my problems. Maybe that was a mistake as well, maybe I should have talked to somebody."
Almunia didn't feature again in the Premier League until the return fixture against the Baggies in March.
Pressure
Again he was at fault for a goal but this time he had the added pressure of arch-rival Jens Lehmann being back at the club and watching on from the bench - an experience Almunia admits he struggled with.
"I have my opinion about what happened when Jens came back and I know the truth, but I don't want any trouble now - I have moved on," added Almunia.
"I guess the boss was angry with me, but I never asked him or spoke to him about it.
"But I haven't got any problem with Jens. We have a great relationship now, which is strange.
"Jens was very competitive on the pitch and in training, sometimes too much. But off the pitch he is a lovely person and our relationship ended well.
"It wasn't a good moment for me when the Arsenal fans jeered me, and the end was very tough.
"But now I have left, all I have in my heart is good memories and good thoughts for Arsenal, the manager, the players and the fans.
"I would love to go back there with Watford. That would be my dream."