Watford boss Gianfranco Zola defends Fernando Forestieri after Charlton red card
Watford's red-carded Fernando Forestieri was backed by boss Gianfranco Zola following his 'simulation' against Charlton.
Last Updated: 03/10/12 7:10am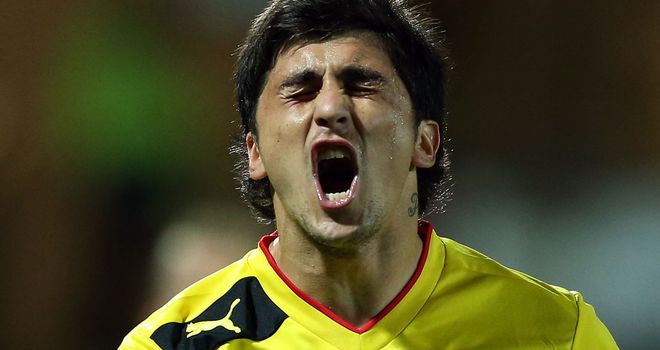 The Argentine picked up a second yellow just before the interval with referee Mike Dean adjudging him to have taken a tumble in the box.
Zola's men incredibly hung on to win 2-1, but the Italian manager warned: "I told him I don't want him diving and if I find out he is diving he is not going to play, but he said he didn't dive and I have faith in my players.
"If you watched the game we played at Huddersfield the other day, in the first half he kept slipping. I keep telling him off and telling him to change his boots.
"He is Argentinian and likes his boots without big studs and on this pitch it was slippy. He keeps doing the same mistake but I don't think he wanted to dive.
"Sometimes he slips and because he goes to the floor many times they label his as a diver, but it is just that he is quicker than many defenders. If they foul him, they foul him.
"It was a pity Mike saw it as a dive and it was disappointing as he was playing a good match."