Watford boss Gianfranco Zola pleased with his side's battling spirit
Watford manager Gianfranco Zola was happy to settle for a point as they were held to a 0-0 draw at home to Millwall.
Last Updated: 07/11/12 10:55am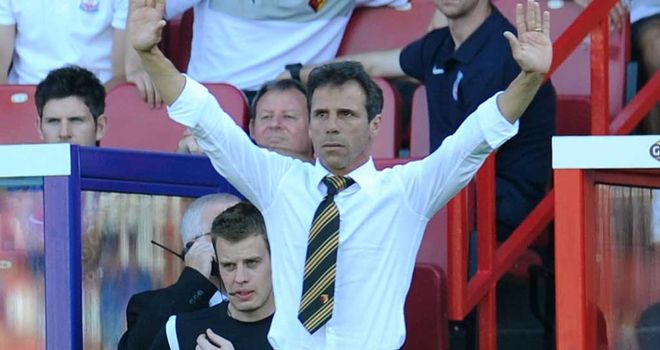 Zola's side came closest to securing victory when Almen Abdi's chip hit the bar in injury time but the Italian was quick to see the positives from the performance.
"I think it wasn't our best game in terms of quality, especially in the first half," he said.
"In the second half we tried a bit to up the tempo but it's fair to say Millwall came over here and played a good game.
"They defended very well and made it difficult for us. So sometimes you have to accept that.
"They haven't lost in the last eight games so that tells you a lot about their solidity and a good moment for this team."
Zola believes his new-look team is progressing as expected, although he admitted there is still room for improvement.
"I think for us right now the key is to get a bit of consistency," he added.
"I know we want to win but at least we broke the tendency that we win or lose, so it's good to get some good results in a row."