Championship: Manuel Almunia was 'ready for holidays'
Watford goalkeeper Manuel Almunia was ready to book his holidays when Leicester were awarded a late penalty.
Last Updated: 13/05/13 2:19pm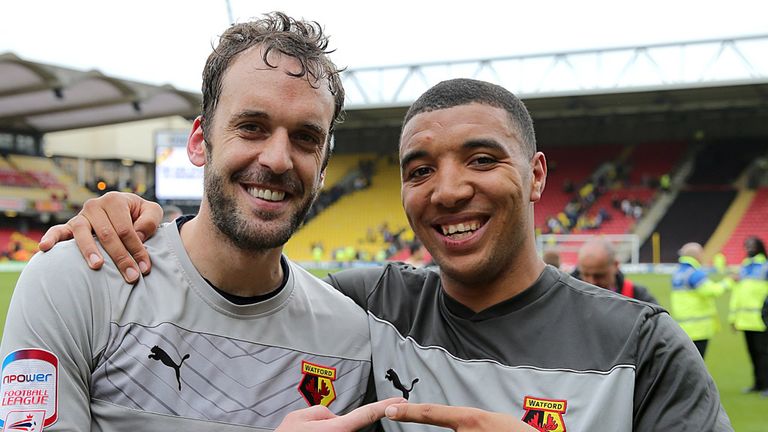 With the tie level at 2-2 and extra-time looming, referee Michael Oliver pointed to the spot after Marco Cassetti nudged Anthony Knockaert to the ground.
Knockaert stepped up to take the penalty which would have sent Leicester to Wembley but Almunia saved it, and the rebound, before Watford broke away and Troy Deeney netted the winner in the 97th minute.
"It was a dramatic one, the kind of game you dream about and sometimes it happens," said Almunia.
"It's the good side of football but the bad side is for Leicester, I feel sorry for them. When the ref gave the penalty I was nearly thinking of my holidays, there were only a couple of minutes left. But I was very relaxed.
"We watched the penalty takers on a DVD but this guy wasn't on it. So I did nothing special, I just guessed the right side and it hit my legs.
"The ball dropped in front of me, I saw the guy come in and the ball hit me again. Then I thought football might give us something good in the last minute and Troy finished the job.
"It was great in the dressing room afterwards; singing, jumping around to music and some beers - just to rehydrate the body."
Former Arsenal keeper Almunia will captain the Hornets at Wembley in a fortnight in what will be the 35-year-old's first appearance at the national stadium.
"I haven't played there but I was on the bench in the Carling Cup final against Birmingham," he added.
"You have to take it like just another game - it will be a very special one but once we are on the pitch it will just be another game.
"The job's not done yet. We will rest at home, have a few days off, then come back a week before Wembley and we have a big job to do.
"In football it doesn't matter where you are; Arsenal, Watford or in League Two, moments like this are great. With football in this country something always happens. That's why people admire English football, it's so unpredictable."
Midfielder Almen Abdi is confident the Hornets can finish the job and secure promotion back to the Barclays Premier League.
The 26-year-old Switzerland international said: "We have played great football this season but yesterday we showed outstanding character as well. It was an amazing feeling.
"Our confidence is very high now after winning a game like that. If we play our football, I think we are going to win this final."