Championship play-off final: Watford boss Gianfranco Zola targeting Europe
Watford manager Gianfranco Zola hopes play-off victory over Crystal Palace will be the first step towards Europe.
Last Updated: 27/05/13 2:10pm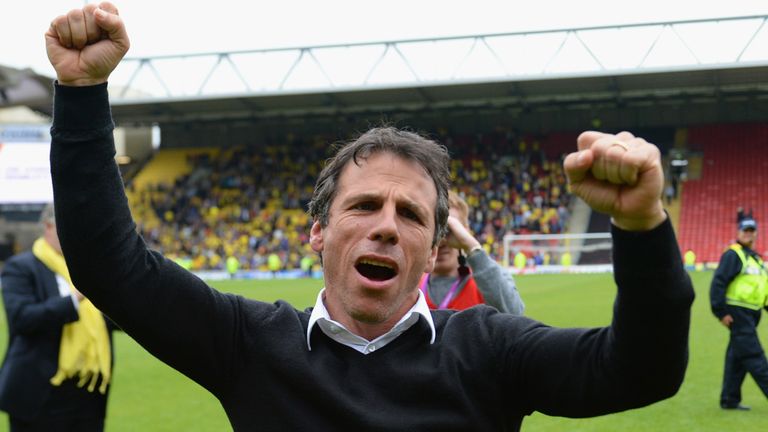 Watford and Palace will lock horns at Wembley on Monday as they compete for what has been dubbed the "biggest financial prize in football".
Awaiting the winners of the Championship final is a place in the Premier League next year and a potential £120million windfall.
But the ambition of Watford's owners - the Pozzo family, who also own Udinese and Granada - is so great that they hope the likes of Inter Milan and Real Madrid will be visiting Vicarage Road in the coming seasons.
"The owners want Watford to become an established team in the Premier League and with time our ambition is to be a European team," Zola said.
"There is a long way to go. Don't forget that we are in the Championship, but that is the type of people (the Pozzos) are."
The Pozzo family took over Watford last summer, ending the often turbulent 15-year spell of Laurence Bassini's ownership.
The Italian family gambled on replacing popular manager Sean Dyche with Zola and the move seems to have paid off, with Watford spending much of the season in the automatic promotion places before they were condemned to the play-offs on the final day of the season after losing to Leeds.
The Pozzo family have enjoyed a successful 27-year ownership of Udinese, overseeing the development of players like Alexis Sanchez and Fabio Quagliarella to help the club regain its position as one of the leading clubs in Italy.
Scepticism surrounded the family when they bought the club, but Zola thinks owner Gino Pozzo has become so enamoured with the Hornets that he may consider making them his priority ahead of Udinese and Granada next season if they go up.
"This is not down to me to answer, but I believe there is a very good chance of that," Zola added.
"They have a lot of expectation and interest in the club.
"They are people that know what they are doing. They will bring here their expertise and experience to make sure they are going in the right direction."
It seemed the footballing gods were conspiring against Watford when they lost to Leeds on the final day of the season.
Zola had to bring 19-year-old goalkeeper Jack Bonham off the bench after Watford's first and second choice goalkeepers - Manuel Almunia and Jonathan Bond - suffered injuries.
The young stopper's gaffe allowed Leeds to score a crucial winner, plunging the Hornets in to the lottery of a play-off, but they recovered and regained some of the luck they lost on that energy-sapping day against Leeds for the play-off semi-final.
Anthony Knockaert had a chance to seal Leicester's passage to the final, but Almunia saved his spot kick and Troy Deeney raced up the other end, scoring 20 seconds later to give Zola's side their most dramatic win in history.
Deeney has been inundated with requests for tickets for Monday's final.
"I've had requests for 96," the striker said.
"I've got everybody - my nan, mum, brother, sister. I had to re-write the list because I forgot one or two, but I got (one for) everybody, so it's going to be a good day - as long as we win.
"I'm still selling blood to pay them off, although a lot of people paid for their own to be fair."
Deeney has endured a rollercoaster year. This time last year he was sentenced to 10 months in prison for affray following a street brawl in Birmingham.
The striker has since gone on to score 20 goals and claims he is totally rehabilitated. He will give two of the tickets to guards he got to know during his time at Thorn Cross prison in Cheshire, where he spent the last part of his three-month spell behind bars.
"I have got them a couple of tickets," Deeney said.
"I had football conversations with them, they were big on sport.
"Being up north there were Manchester United fans, Manchester City fans and Liverpool fans so me being a Birmingham fan wasn't the best - I had to talk about the Premier League all the time."