Championship: Watford's Lloyd Doyley hopes to hit goal jackpot
Monday's play-off final may be worth £120m to Watford, but Lloyd Doyley could be in for a cash windfall of his own.
Last Updated: 27/05/13 2:11pm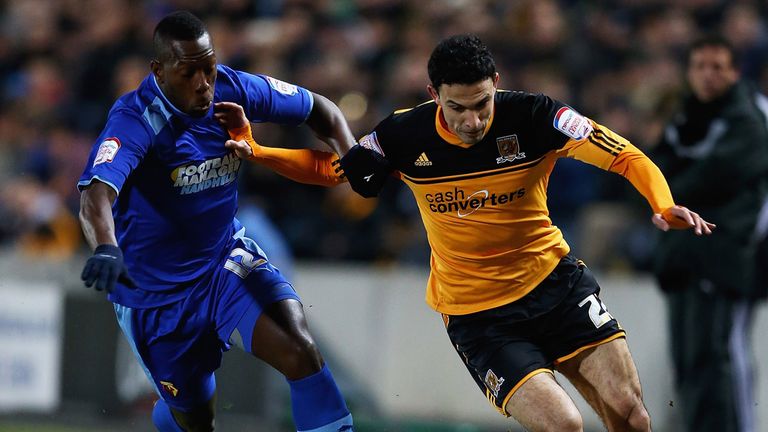 Watford and Crystal Palace lock horns at Wembley on Monday for what has been billed as the biggest financial prize in football - a place in the Premier League.
While Doyley has been a consistent performer in Watford's defence ever since he made his debut in 2001, he has not enjoyed much success up the other end of the pitch.
In 2009 Doyley scored his first goal over eight years after making his debut and he has since just added one more goal, taking his tally to two in 408 appearances.
He marked the occasion by putting the boots he wore that day in the 3-1 win over QPR up for sale and he may have reason to do the same again if he scores an unlikely winner at Wembley.
"Those boots got auctioned and they went for £2,000, even though I scored with my head," Doyley said with a smile.
"I still have my boots that I scored my second goal with. They will be worth a few more thousands if I score on Monday."
Although he doubled his tally earlier this season by scoring against Bolton, bookmakers have priced Doyley at 85-1 to open the scoring in the Championship play-off final.
And given that he has found the net so rarely during his long spell at Vicarage Road, it is hardly surprising that manager Gianfranco Zola does not consider Doyley as one of his five penalty takers, although the defender insists he would take one if required.
"Some of the team have been practising penalties over the last couple of weeks, but I haven't because, as you know, I don't score very often," he said.
"But if there was a penalty to take I would take it. The lads have been practising it a lot.
"They get a keeper out and have five or six penalties. Hopefully it won't get that far."
In the bar in the Main Stand at Watford's ground there is a message board where fans have left good luck messages for the team ahead of Monday's final.
Amongst the many Italian-themed messages like 'Forza Watford' and 'Watfordola', another sticks out. It reads: 'Lloydinho!!! True Watford Legend'.
The likes of Tom Cleverley, Ashley Young and Gianluca Vialli may have passed through Vicarage Road in the last 11 years, but Doyley has remained and the fans love him for that reason.
They have latched on to the Lloydinho moniker which he picked up four years ago.
"I got the name from (former Watford manager) Brendan Rodgers a few years back," said Doyley.
"It came from a game where we lost against Chelsea in the cup (in 2009).
"We lost 3-1, but I played a ball in on goal and Tamas Priskin scored. Brendan Rodgers called me Lloydinho from there."
Zola signed nine players on loan from Udinese this season following the Pozzo family's takeover of the club.
The policy has drawn criticism from some managers, including Palace boss Ian Holloway. Doyley admits he was worried about the influx of new players at the start of the season.
"You always worry about (new players coming in)," he said.
"There was a stage when I was out of the team for five or six games but I just got on the training field and worked harder."