Championship: Derby boss Steve McClaren praises assistant after 3-2 win over Watford
Derby boss Steve McClaren praised the positive attitude of his assistant Paul Simpson in his side's 3-2 win at Watford.
Last Updated: 22/10/13 2:49pm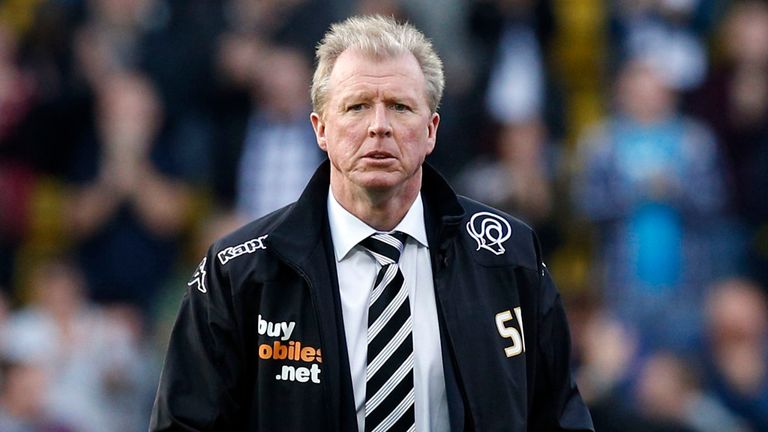 The replacement striker notched with two minutes of normal time remaining after being played in by Will Hughes to end the Hornets' unbeaten home record in the league.
Jamie Ward had scored twice either side of a Fernando Forestieri goal to give the Rams a 2-1 lead at the break before Lewis McGugan equalised to bring Watford level for a second time midway through the second half.
"I think we were always going to do that," McClaren said when asked if he had planned to replace Ward with Sammon.
"Paul Simpson was very good in that respect. We talked about the changes and it was a decision to make, do we put a defender on and try to stop the flow and try to hang on or change the system and try to go forward? And, to be fair, Paul Simpson was (saying) 'go for it, let's try and get the winner'.
"We decided to do that and he did a great job, Conor - it worked."
Commenting on the game, McClaren said: "I thought it was a great game for the neutral and for the two sets of fans. I thought it was a see-saw game and two teams who like to play football.
"They had some very good players on view - we did as well. Some of the football they played and we did was tremendous.
"I like the team. It works hard, it's got character, attitude, can play football and can score goals. We came out on top today. It could have been the other way round very easily but we just got the edge and I think deserved the win in the end."
Watford head coach Gianfranco Zola pointed the finger at his side after they were unable to build on a run of four wins in their previous five matches.
"It is tough to take but I have to say we have to blame ourselves," the Italian said. "It is not enough to play good football like we did today, it is not enough to score two great goals like we did today. We need to get better in defending.
"To win championships you have to be able to attack well as we did today and as we can do but we need to defend better.
"We want to do better than we did last year and to do that we need everyone to improve, so we need to defend a little bit better than that. And when I say that, that doesn't mean it's only the defenders - everyone does.
"The midfielders and the strikers have to work a little bit more because in modern football you cannot think you only defend with the defenders. Everyone has to participate."
Two of Derby's goals came from Watford giving away possession, and Zola added: "When we analysed the opposition we said this team is very dangerous.
"Before this game they won four games, three of them were away from home.
We saw them and they were very dangerous when you lose the ball and they start counters and I think some of our passing on the deck was very poor - or at least not as good as normal and that's something we cannot afford."