FA Cup: Watford boss Beppe Sannino happy to be in fourth round
Beppe Sannino has no preference who Watford face in the fourth round of the FA Cup after the 2-0 win over Bristol City.
Last Updated: 15/01/14 8:57am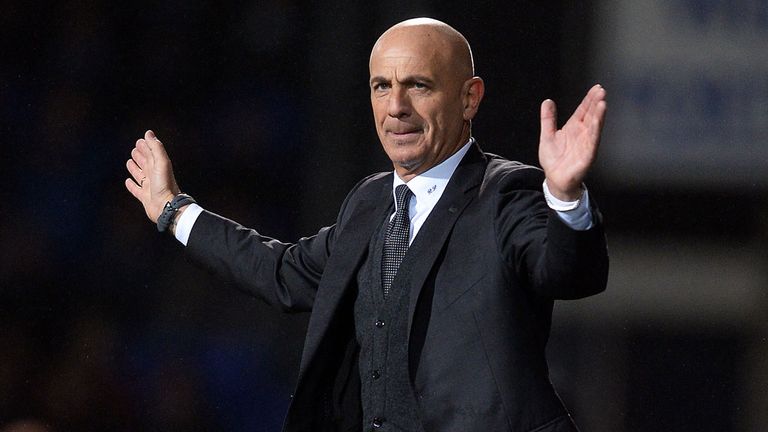 Goals from Davide Faraoni and Lewis McGugan secured the Hornets a trip to the winners of Wednesday night's replay between Manchester City and Blackburn Rovers.
Asked who he would prefer to face, the Hornets head coach responded: "It doesn't matter. For me it's the same, Blackburn or Manchester City. For me it's important that Watford will be in that game."
Watford were much more comfortable on their home patch after a 1-1 draw in the first leg.
Sannino said: "What was important for me was to get through in the cup and I'm very happy with that because we had the opportunity to start again with enthusiasm.
"Again we were slow in the first half and then we grew during the game but we're like that, we keep the consistency with the performance but I'm happy with that. This game showed me the kind of team I want, with character, good spirit and also I think the fans were enjoying tonight."
For Steve Cotterill, it was a case of what might have been, particularly after the draw in the first meeting of the sides.
The Robins boss said: "We've played well in both the games. Sometimes you get that opportunity in a home game to get a result but we didn't do that. They're a good team, they've got some very good players. Had our chances gone in in the first half it might have been a different game but good luck to them Watford, they're a good club.
"The biggest disappointment really is we didn't give our players potentially an opportunity to maybe go to Manchester City which everybody would have thought about, there's no point in hiding behind that. No disrespect to Blackburn but our supporters and the players would have liked their day out there really but it wasn't meant to be."
City had two good chances in the first half - first to take the lead through Sam Baldock early on and then to equalise just before half-time through Bobby Reid.
Cotterill said: "You're always disappointed when you don't take a chance but these boys are human, that's what happens.
"You miss chances, I missed chances when I was a player so I know what it's like to miss a chance and on another day we get that little bit of luck, Sam Baldock scores, Bobby Reid scores, all of a sudden it's a different game but I'm really proud of our boys."