Championship: "Excellent" Huddersfield praised by boss Mark Robins
Mark Robins praised his "excellent" Huddersfield side after they beat Watford, as Beppe Sannino apologised to the fans.
Last Updated: 03/05/14 6:06pm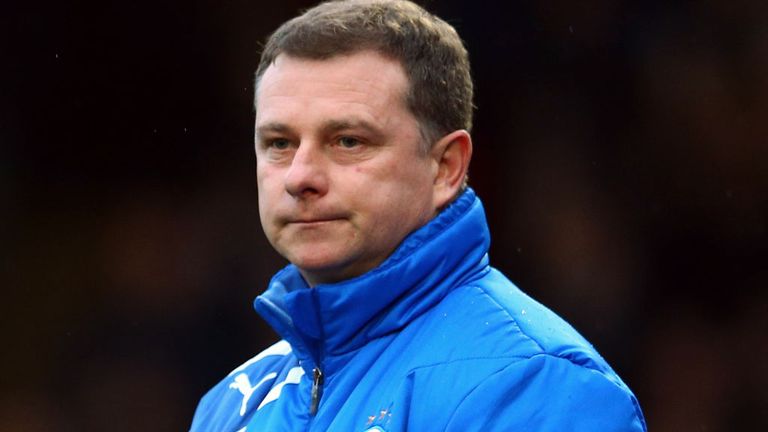 The Terriers had come into the game with only one win in their last 12 games but a second-half hat-trick from substitute Danny Ward - on for the injured Nahki Wells - after Joe Lolley's opener after the restart fired them to an emphatic victory. Troy Deeney scored a consolation goal with a late penalty.
The Huddersfield boss said: "We were excellent from start to finish, I thought we controlled it as well as we could.
"Alex (Smithies) made a couple of good saves before we eventually took the lead. The first half was a little bit of a cagey affair but I thought in the second half we were good value for a win.
"I didn't see four goals coming from it but Danny's got a hat-trick, I'm absolutely delighted for him, Joe Lolley's got his first goal for us and I thought his debut was outstanding and it was a good game for him to come into and perform."
It was Lolley's first start in a Terriers shirt and Robins explained: "We always wanted to try and get him in but the thing is he's risen eight leagues in 18 months and we wanted to try and keep him on that upward curve.
"But because of the different standard, the nature of the training and the load on the players he's found it a difficult transition so we tried to get him through it and get him to a stage where we could put him in.
"He's had a few cameo roles but he's shown today how capable he is and I was pleased because we know he's got more about him than just a one-trick pony, he'll get better and better."
Huddersfield signed Lolley from Kidderminster in January.
Commenting on Ward, Robins said: "I've said for a long time Danny gets himself into unbelievably good positions and doesn't always deliver with the finish. In training, he does, so it's there, it's in him.
"People know him as a winger but when he was at Swindon he played up front with Charlie Austin and for me he's better in the middle. He delivers a lot more and he's less isolated than out on the wings."
The defeat completed a nightmare end to the season for Watford. Having looked like they might make a late bid for the play-offs only a few weeks ago, this was their fourth successive defeat.
Watford manager Beppe Sannino said: "I'm here just to put my face in front of everybody because I'm the head coach, the leader of the group. I'm sorry because we did finish this season in front of our supporters in the worst, worst manner possible.
"I don't like to speak about my players because it would be easy to speak when there is a good moment and also when there is a bad moment."
Sannino cancelled his players' day off on Wednesday in the wake of their 3-1 defeat at Charlton the night before. Asked if he would be cancelling any other days in the wake of this loss he responded: "I don't think my lads deserve to go on holiday straight after the end of the season. Apart from that, we've planned some physical tests and we'll carry on with that next week."
The Hornets head coach was also asked if there would be sweeping changes to the squad in the summer. He responded: "I would like to say a lot of things but it is correct for me at this moment to reflect for next season. This is a bad moment and we have to feel this."