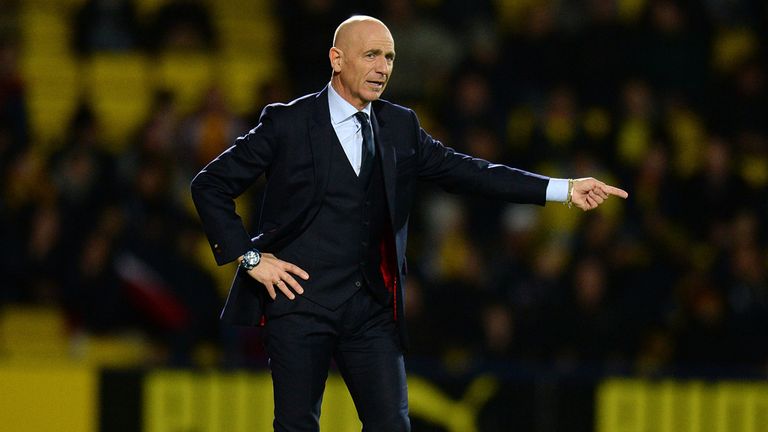 Beppe Sannino has resigned as Watford head coach.
The 57-year-old Italian has ended his spell in charge at Vicarage Road despite guiding the Hornets into second place in the Sky Bet Championship table after five games of the season.
Watford have collected 12 points from five matches so far and trail leaders Nottingham Forest by only one point, although they were knocked out of the Capital One Cup after losing at home to Doncaster last week.
Sannino only took charge of Watford on December 18th last year after previous managerial spells with a host of Italian clubs.
However, despite a relatively successful period on the pitch, his reign has been marked by unrest in the dressing room, notably a few senior players have expressed their discontent at some of his methods and techniques on the training field and on the touchline.
The discontent came to a head during the recent 2-0 victory at Rotherham when Lloyd Dyer ran halfway across the pitch after scoring a goal and shouted at the Watford bench, seemingly in the direction of his head coach.
Watford are hoping to appoint a replacement for Sannino by the end of next week.
Sannino issued a statement on the club's official website to announce his departure from the job.
The statement read: "I took over a very talented squad when I arrived - but they were boys in many ways.
I feel I have gone as far as I can so, for the benefit of me and the club, I feel the time is right for me to move on.
Beppe Sannino
"I'm proud of what we have achieved and I have no doubt that the squad now, who look very much like men who know exactly what they must do, are very capable of getting promotion from this tough Championship league.
"I know I have given everything to Watford; I have given my heart and soul to the job and I have been happy to do this because of the wonderful support I have received from everyone - and most of all the fans, who are truly amazing.
"However I feel I have gone as far as I can so, for the benefit of me and the club, I feel the time is right for me to move on.
"I am convinced  whoever will be in charge in the future will have everything ready for him to deliver the success that everyone at the club would wish for"