Championship: Oscar Garcia speaks to Watford players about Beppe Sannino fall-out
Last Updated: 04/09/14 5:53pm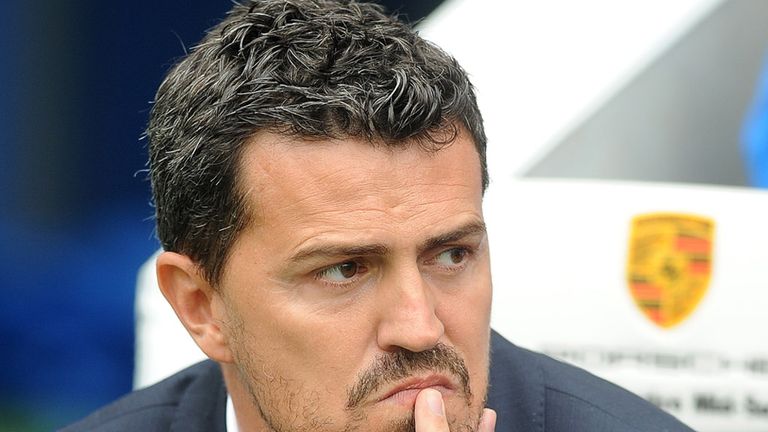 Oscar Garcia has held talks with his new Watford players to get to the root of their apparent fall-out with former boss Beppe Sannino.
On Tuesday, Garcia agreed a one-year deal to take over at Vicarage Road after Sannino quit over the weekend, claiming to have "gone as far as I can" in the job.
But there were reports some senior players were unhappy with the Italian's style of management, despite guiding them to second in the Championship after their first five games.
Garcia said: "For me, it's important to know what happened in the past.
"I have spoken with some players because I want to be sure what happened and we will try to solve this problem."
Former Brighton boss Garcia revealed he had plenty of offers from elsewhere after leaving his role at Maccabi Tel Aviv last month due to security concerns in Israel.
Leeds were among the clubs reportedly interested in his services but the Spaniard, 41, jumped at the chance to join the Hornets.
"When I left Brighton, I thought I would only come to the Championship for four or five clubs and Watford was one of them," he added. "When I had the offer, I didn't think of anything else but to come here.
"I know the owner, I know the way the club wants to grow and I know the squad. We have fantastic players and I wanted to work with them.
Watford has amazing fans and the way the club wants to go made the difference to come here.
Oscar Garcia
"I don't want to speak about other offers. I had several, and I was happy to have them because they came from big clubs but I like the squad here. Watford has amazing fans and the way the club wants to go made the difference to come here."
Garcia reached the play-offs with Brighton last season and feels he has inherited a squad capable of being in the promotion mix again following their flying start to the campaign.
However, Watford started last term in fine form before falling away over the second half of the season.
He said: "I like to start well but I also like to finish well because it's a long race and we want to arrive at the end of the season in good shape.
"We will try everything. Our idea is to improve on last season, they finished 13th, but we will try to reach the top six and do our best to achieve it."