Huddersfield confirm Jonathan Hogg injury as 'fracture in cervical spine'
Last Updated: 18/03/17 5:13pm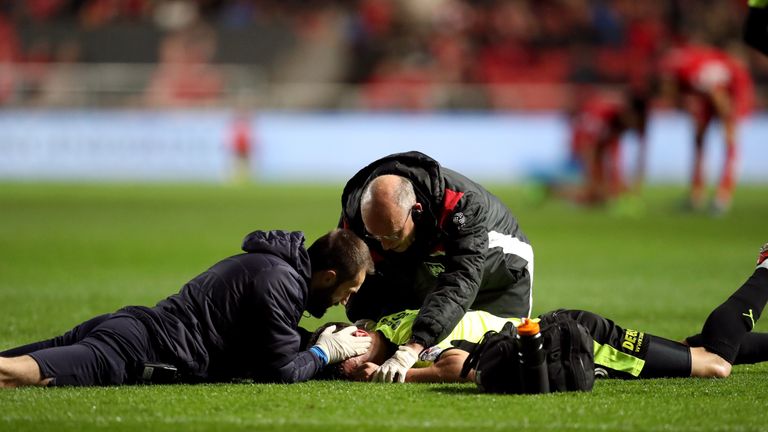 Huddersfield Town have confirmed Jonathan Hogg's injury is a "fracture in his cervical spine".
The midfielder was hurt after just eight minutes when he appeared to collide with team-mate Mark Hudson in Friday's Championship game against Bristol City at Ashton Gate.
Following a lengthy delay, which led to 15 minutes of added time at the end of the first half, he was carried off the pitch on a stretcher.
Hogg is now expected to miss the rest of the season for the Terriers, who lost the game 4-0.
A statement from Huddersfield on Saturday read: "Jonathan was referred to Bristol Royal Infirmary, where he underwent further investigations yesterday evening and early this morning.
"The results have detailed a fracture within his cervical spine [neck].
"He remained in hospital throughout this morning for ongoing observations and underwent further investigations concerning the associated soft tissues within his injured area. The results of this scan have confirmed no significant trauma to any of the soft tissues.
"He was discharged from hospital on Saturday afternoon and will now continue with his aftercare in Yorkshire concerning his fracture management.
"Throughout both days, Jonathan has been conscious and completely aware of his situation."