Chris Wilder says Sheffield United aiming for three points in Steel City Derby
Last Updated: 21/09/17 12:59pm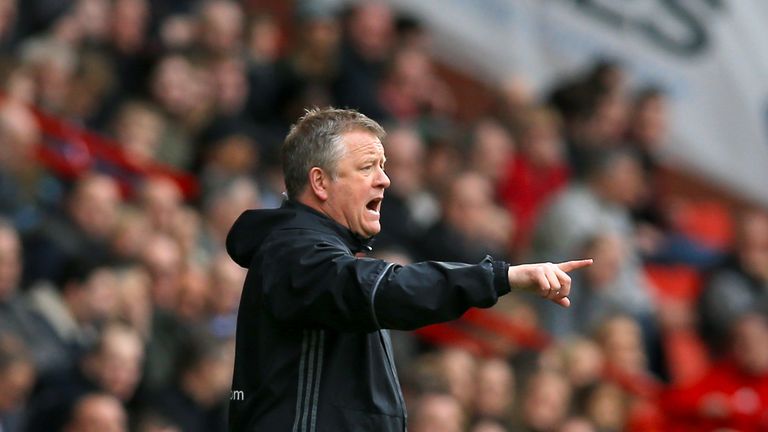 Chris Wilder has promised that Sheffield United will travel to Hillsborough on Sunday with the sole aim of bringing back three points.
The Blades boss insists they will not settle for a draw, when United face Wednesday at Hillsborough in the first derby meeting for more than five and a half years.
This will be Wilder's first Steel City Derby as a manager, having experienced the occasion previously as a player under former United boss Dave Bassett.
Wilder, who turns 50 on the day before the match, said: "We won't sit on the edge of the box, and soak up and defend, we are going there to get a result.
"We recognise we're playing a very good football team who have outstanding individual players.
"But we have a determined group who will go to Hillsborough and try and win. We've always played on the front foot since I've been here."
United have a number of injury concerns right now, especially up front, but this won't detract from his determination to win the match.
Wilder added: "We have got issues and we're disappointed we won't be at full strength. But look what we did against Norwich last week - even though we lost 1-0.
"They are not a bum team, they were recently in the Premier League, and from what we had available it was an outstanding effort.
"We were disappointed we missed out, we're not used to losing, but we went about it in the right way and showed all the right qualities.
"Whoever gets the shirt this week will give 100 per cent."
Wilder was sent to the stands at Bramall Lane last weekend, but the Football Association have decided not to punish him any further, which means he will be available to sit in the dugout this Sunday.
"I'm OK. I'm delighted with the FA's decision," he said. "I should not have stepped into the technical area but I'm not a serial abuser of fourth officials, referees and linesmen.
"I'm sure the FA realise I'm not sent to the stands every ten games."
Watch this Sunday's derby between Sheffield Wednesday and Sheffield United live on Sky Sports.