Robins hails starlet
Mark Robins hailed Reuben Noble-Lazarus as he scored the only goal in Barnsley's win over Millwall.
Last Updated: 07/05/11 5:32pm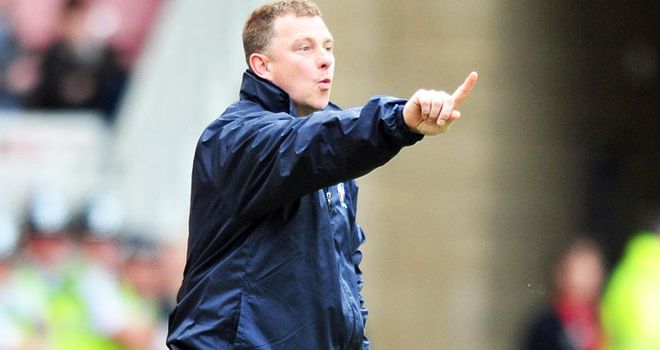 Barnsley manager Mark Robins hailed starlet Reuben Noble-Lazarus as he scored the only goal in their 1-0 win over Millwall.
The 17-year-old, who made his debut when just 15, came off the bench to strike on the hour-mark at Oakwell.
And Robins was delighted to see Noble-Lazarus claim his first senior goal in the final game of the season.
"Reuben deserved his goal. I was absolutely delighted for him," said Robins.
"He was hailed as a wonderkid when he made his debut at 15.
"He's worked hard at his game and we've had to nurture him. We had to get him mixing with his own age group again.
"He has matured and he is now 17 and we can now see a difference in him. He has got a lot more in his locker.
"The other youngsters at the club have got to look at older players like Bobby Hassell to see what can be achieved in the game if they work hard."
Robins admits the match was not a classic, adding: "The first half was poor but our players responded to what I said at half time and the second was a lot better because Millwall had a go as well.
"In the second half we moved the ball around a lot better."
But the Barnsley chief is very happy to have finished on a high, and he hailed their Championship campaign.
"I am delighted for the whole outcome. It's been a good season for us because we've not been anywhere near the relegation zone so the players have done fantastically well," he said.
"We have had a comfortable season in the Championship.
"We have now got to step forward, but I am just enjoying this day. I am delighted for all the players who have worked their socks off.
"This is about the players and supporters and thanking them for unwavering support this season."
Disappointment
Millwall boss Kenny Jackett could not his disappointment at ending the season with a defeat.
"I am disappointed with us going forward; I thought our shooting was very poor," he said.
"For long spells we had a hold on the game. I am disappointed that our players can do better than that. We didn't work their keeper and we got what we deserved.
"We didn't show enough quality and didn't take any of the good opportunities we had.
"We want to win every game, but for a club the size of Millwall we've had a very good season.
"To finish ninth in the Championship is a great achievement because there are a lot of good teams below us."